Vegetable Curd Sandwich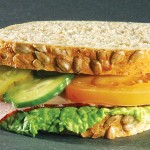 Who doesn't love to grab a sandwich filled with cheese? Our tastebuds just don't go hand-in-hand with our health but thankfully, that's not entirely true! If you explore a few options, you'll see that you can eat healthy while satisfying your cravings. The catch–use curd instead of cheese! 'Curd' is categorised under probiotics which help you muster an army of good bacteria that help you lose weight. In addition, carrots, cabbages and veggies are really good for you. Go ahead and try out this awesome recipe.
2 slices whole wheat bread or multigrain bread
2 tsp hung curd
Freshly crushed pepper
Cut carrot, cabbage or veggies of your choice into small pieces or thin slices
Salt to taste
Method
Just mix all the ingredients except for the bread and just spread it on the toast.The hung curd just tastes like cream/cheese.