Body recomposition is also called as re-composition. It is a weight loss program that puts emphasis on the importance of not only reducing body fat but adding muscle mass at the same time.
Most people want a toned and a trimmed body after losing weight. Such people look lean, after being fat for far too long, even while maintaining or gaining muscle.
This is an example of body recomposition. Earlier the weight loss programs did not emphasize on gaining muscle and focused only on decreasing body fat.
Table of Contents
People were happy with it when they found that they have shed a few kilos. Body recomposition technique is fairly new but is catching up fast. Both men and women are showing interest in it.
Every day your body needs a certain amount of calories to perform all the functions to help you stay active and healthy and boost your muscle growth.
The extra calories will be stored in the body as body fat. So your body needs the right amount of calories to build muscle and lose the right amount of calories to burn fat.
Get FREE Health Consultation Today!
If the food you eat does not provide you with the right amount of calories, your body fat will provide you with it.
This is how you lose fat to build that muscle. The body recomposition techniques trim your fat and boost the number of calories you burn throughout the day. They even help you to increase your strength. There are lots of health benefits if you follow a proper recomposition regimen.
Your body consists of fat, bone, muscle, and water. The bone, muscle, and water are fat-free mass. The amount of fat and fat-free mass put together compose your body. But the fat percentage in the body in relation to the muscle mass is a reflection of the overall well-being of a person.
To understand how healthy a person is, it is very essential to examine his body composition. It gives a better picture than what we get, when factors like height, weight, and body mass index are taken into consideration.
Recomposition means to form something again or form something in a different way. It changes your body and recomposes it, so it is called as body recomposition. It focusses more on the composition of the body rather than on weight.
 It does not follow any standard diets. It gives importance to fitness and nutritional techniques. It makes you adopt a lifestyle which brings a healthy change in your body's ratio of fat to muscle.
Sportspersons, bodybuilders, weightlifters, and movie stars have been using body re-composition techniques for a long time. Now it is being followed by people from all fields who want to be fit and lose fat.
Excess fat leads to a series of health issues and may increase the risk of heart disease, diabetes, hypertension, and cancer. So people who are fat and want to lose weight go on a diet and follow it up with a strict exercise regimen.
They check their weights regularly on a weighing machine. When the scale shows their weight coming down, they are happy with the regimen. They assume that they are healthy too.
The weighing scales are the only proof of weight reduction. However, the problem with weighing scales is that people do not know whether they have lost fat or their muscle mass. So it puts a question mark on the overall well-being of a person. One should have a healthy ratio of muscle mass to body fat for enjoying good health and to decrease the risk of life-threatening illnesses.
It body recomposition is done correctly it changes the structure of your body so that you have more muscle and less fat on your body.
You must understand that it is a slow process. The techniques used for body recomposition may not show the desired results immediately.
You will have slower weight loss or no weight loss at all as you gain muscle simultaneously. You must not lose hope as your ratio of muscle to fat is the best indicator of your fitness and an overall good health, and not your body weight. 
When your muscle mass increases you will burn more calories while at rest thus giving a big boost to your resting metabolic rate.
How does Body Recomposition work?
In the traditional weight loss methods the emphasis is more on cutting down the calories drastically and following exercise regimens which help to expend more energy. Cardiovascular exercises help to do that. The weight lost will be significant but fat and muscle mass will be reduced.
Though cardiovascular exercise help in weight loss and improving the general health, strength training is necessary to alter the body composition of an individual.
Body recomposition does not follow these methods.  It relies more on the individual's lifestyle than on his diet. But those wanting to gain muscle while burning fat must stick to exercise regimens and changes in their diet which help in body recomposition.
The circumference of their body must be measured by a skinfold calipers which is used for measuring body fats. A weighing scale does not help here.
So a body recomposition routine, when followed, helps in losing fat while preserving and building muscle in the body. A change in diet and exercise is imperative to achieve this goal. A diet rich in protein helps in the reduction of fat and supporting muscle growth.
The basics of body recomposition
Body recomposition needs vary from person to person. They depend on the individual's interest and goal. The diet and exercise also varies accordingly. A lean athlete who wants to have more muscle on his body needs to cut fat while an overweight person who wants to look toned up, needs to lose fat from his body.
The dietary habits and the exercise regimen of an overweight person will be different from a lean athlete. One should find the right balance between exercise and diet for body recomposition. Anyone can benefit from body recomposition regardless of the amount of fat one wishes to lose or the amount of muscle one wishes to gain.
The excess fat in the body increases the chances of many chronic diseases affecting the person. It not only causes physical problems but disturbs the person psychologically too. A fat person becomes extremely conscious of himself when people make fun of his weight. His emotional well-being gets affected too.
Nevertheless, it is not the end of the road for him. He can lose the excess body fat by consuming less calories or expending more energy to create a deficit in calories.
But it will not help to preserve his muscle mass even if he engages in long hours of cardiovascular exercise or drastically cuts down on the number of calories. The secret to a good physique is to moderately decrease your calorie intake and indulge in strength training. Strength training exercises build muscle mass and also help to lose fat.
The role of Nutrition
Nutrition plays a big role in body recomposition. The quality of diet chosen is important. A diet rich in protein produces good results. It reduces fat and preserves lean body mass.
Studies have shown that overweight adults who followed a diet less in calories and more in proteins, according to their body weight, could preserve their muscle mass and reduce their body fat. This diet is particularly suited for sports persons and weight lifters.
They can maintain muscle while losing fat by eating food which has higher protein content in them. They get the desired results by consuming a hypo caloric diet rich in protein that helps them to lose fat but maintain the right amount of muscle mass in their bodies. Increasing your protein intake according to your body weight improves your body composition.
Other ways to burn fat stored in our body
There are other tried and tested methods to reduce fat in our body apart from eating food less in calories and rich in protein content.
Eating food rich in fiber –
Legumes, lentils, whole-grain oats, barley, sweet potatoes, lettuce and fruits like apples, oranges, mangoes bananas and strawberries are rich in fiber.
Adding them to our diet and eating them every day can help to decrease body fats especially in the belly region. They also lower the levels of insulin in our bodies. Insulin is a hormone produced in the pancreas and helps in the storage of fat.
Avoiding food rich in carbohydrates –
Since carbohydrates cannot be avoided completely we can reduce eating them. So food rich in sugars should be avoided and replaced with foods rich in proteins, healthy fats and fiber.
Reduce eating processed foods –
Though processed foods are convenient to have them around they are known to have high quantities of sodium, fats and sugar in them which are not good for us.
They can be eaten occasionally. Fast food, bakery items, chips and candies are junk foods and are loved by one and all. But they should not be consumed every day or regularly as such foods get stored as excess fat in our body.
Exercising at short intervals –
It is observed that intense work-outs followed by brief period of recovery at short intervals is found to be more effective in decreasing body fat than workouts carried out continuously for long hours.
How to Build Muscle
Though losing fat is important, maintaining or gaining muscle is equally important to alter your body composition. It cannot be achieved if you focus only on your diet and not on exercise.
The result will be a loss of muscle mass. So it is vital to combine a healthy, mass promoting diet with a fitness regimen that supports muscle growth and maintenance to give you a lean body.
Why Protein is Important
Protein is very essential when you are trying to build muscle. A healthy diet is best for everyone no matter what the fitness goals are. It has a balance of carbohydrates, proteins and healthy fats along with minerals and vitamins.
But to reform your body composition you must focus more on protein-rich diet as it is necessary for promoting muscle growth.
Studies have shown that supplementing the high protein diet with additional protein intake of 35 grams daily helps in further gaining lean body mass.
A research from the International Society of Sports Nutrition has shown that people in weight training programs wanting to gain more strength and fat-free mass by following a low-calorie diet need a protein intake even higher than this.
Obese people who want to lose the excess fat need to reduce calories while increasing protein intake accordingly to maintain their muscle mass.
The protein intake should be distributed evenly throughout the day. Foods rich in protein like dairy products, poultry, eggs and protein supplements should be consumed every three to four hours, every day.
Exercises which help to Gain Muscle
Exercises like strength training should be incorporated in your routine along with a diet of whole-foods and high protein. Strength training helps to build strength and muscle mass.
It is also called as resistance exercise. The strength training exercise is recommended depending upon your interest and your goal.
You have to follow the strength training methods for two days in a week if your objective is to reduce fat and build muscle. Training twice a week is found to be more effective in maximizing muscle growth than training just once a week.
It is found that doing strength training exercises and muscle building exercises for two or three days per week along with interval training once or two days per week is a perfect combination. This combination of high-intensity interval training with resistance training leads to fat loss and increases muscle mass and strength.
Strength training exercises
Using your body weight for resistance by doing push-ups, pull-ups and crunches, lifting weights, using resistance bands, using weight machines at a gym, leg squats or push-ups against a wall are some of the examples of strength training.
Supplements to promote body recomposition
It is proved that high protein intake throughout the day is the best way to gain muscle mass. Protein supplements used during strength training exercises also help in acquiring the required body weight.
Consuming protein supplements or a diet rich in protein two hours after strength training stimulates muscle protein synthesis.
Proteins are made up of amino acids. The body needs 20 different amino acids to grow and function properly.
Nine of them are considered to be essential and help in muscle growth. Whey powder which is rich in essential amino acids can be used after strength training exercise. It boosts muscle growth.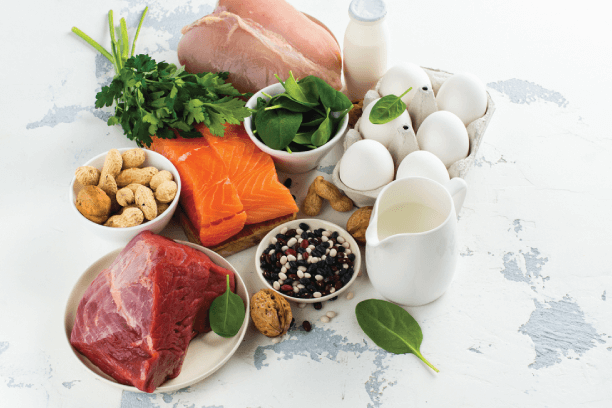 The other protein supplements are Casein protein, egg protein, pea protein, hemp protein, brown rice protein and mixed plant protein. Casein protein and whey protein come from milk.
The protein supplements are used to increase the protein intake in the body. They can be consumed after a rigorous strength training work-out and also with meals or snacks. Eggs, fish, chicken, nuts, peanut butter, beans, yoghurt are other protein sources which can also be added to every meal and snack.
Body Recomposition for Women
Body recomposition teaches a woman that higher calories and weight training have a positive impact on her body composition. It helps to transform her physique effectively.
Strength training or resistance exercise helps the body to retain muscle and grow lean muscle mass. Too much of cardio exercises with a large calorie deficit will cause the glycogen stored in the body to be used up.
When no glucose is available, the body will not have the required energy for its activities and will use the energy from the muscle mass. The body will break down its own muscle tissue to release amino acids. These amino acids will be sent to the liver where they get converted into glucose.
It is crucial for older women to implement body recomposition. Women have smaller bones than men and are prone to osteoporosis early in their lives, when their estrogen levels decrease and menopause sets in.
Resistance based weight training and optimizing proteins, carbs and healthy fat allow women to increase lean muscle mass, strength and bone density.
This process is catching up with men and women alike. We should thank the media and social networking sites for creating awareness about body recomposition.  People posting their pictures during recomposition looking stronger and fitter is a proof that this regimen works.
Fitness and wellness are the new mantras of today. People going to the gym are showing interest in body recomposition and working-out hard for a toned and a tanned physique. Interestingly this way of training and eating is not exactly new as bodybuilders and professional sportsmen have been following this regimen of strength training and nutrition for a long time. Now the fitness industry is taking it to new heights.
To sum it up in a few points
Body recomposition emphasizes on gaining muscle while losing fat. It can be followed by anyone. The methods vary depending on your body composition goal.

Cutting out processed foods, increasing protein and fiber intake and decreasing your calorie intake are the best ways to lose fat while preserving muscle mass.

Doing strength training exercises at least twice per week.

Protein supplements can boost your protein intake and stimulate muscle growth. Whole food sources should be consumed throughout the day to meet your protein needs.

It decreases your risk of chronic disease and boosts metabolism.

It can be used by everyone from a high profile celebrity or a sportsperson to a simple man looking for a healthy way to get in shape.