Refreshing Vegetable Juice!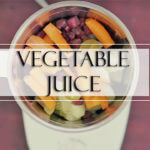 Everyone loves a glass of fresh fruit juice but many a brows are raised especially at vegetable juices. The recipe given below is perfect for those who are noobs to veggie juicing.
1 bunch spinach
1 nos carrot
1/2 cucumber
1 nos amla
1/2 beetroot
A few coriander leaves
A few fresh mint leaves
Ginger roots
Note for Diabetics: Add only half carrot or beetroot in the vegetable juice.
PREPARATION:
Wash the spinach in cool water and place in hot boiling water for a few seconds.

Strain the spinach and let it cool and then put it in a blender.

Add the other vegetables and blend everything together. Strain if required.

Add black pepper to taste.
 Also see how to make Make Your Own Omega-3 Shake!