Fluffy Spinach & Mushroom Omelette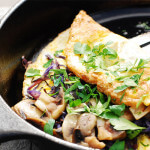 Omelettes are an all time favourite! But it's time to break the monotony of regular omelette and try some exquisite combination of omelette that is tasty yet healthy. This incredible spinach and mushroom omelette will provides balanced nutrition and helps in detoxification.
1 Whole Egg
1 Egg White
20 gm Onion
50 gm Mushroom (cooked)
1/2 tsp Oil
20 gm Spinach
1/2 tsp Pepper Powder
Salt – to taste
Take oil in a pan and add onion and spinach.Saute them.

Then add cooked mushroom to it and saute well.

Take the mixture in a bowl, add a whole egg, an egg white, some salt and pepper powder. Mix them well.

Place the mixture on a pan. Cook both sides.

Cut into four pieces and serve your Fluffy Spinach and Mushroom Omelette.
Bon Appetite!
Also, Try this Healthy Bajra Khichdi Recipe!
Get FREE Health Consultation Today!