Bottle Gourd Raita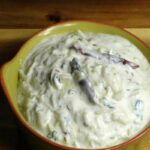 Bottle gourd raita, also commonly known as Lauki ka raita is a nutritious Indian dish. Bottle gourd is rich in vitamins and minerals like magnesium, phosphorus, calcium etc. The presence of yoghurt in raita enhances the taste of food and helps in digestion too. So what are you waiting for? Read more about the recipe and introduce this great dish to your meals.
1-1/2 cp Grated Bottle Gourd
2 cups curd
1 tbsp Chopped Tomato-
1 tbsp Chopped Onion
1 tbsp Chopped Coriander
1 tbsp Jeera or Cumin Powder
Salt as per taste
Method
First, take a small pan and boil bottle gourd (grated) and keep it aside.

Now you can mix the yogurt to make raita for about a minute.

After that you can mix coriander leaves, onions, jeera, tomato and other ingredients in this raita and then cool it in a refrigerator.

Voila, your delicious raita is ready!