Medically reviewed by  Saachi Sethi, Postgraduate Degree in Food and Nutrition
Who would have thought that this dusky damsel in her first-ever performance in the movie Baazigar would make it this far and become what she is today – a successful actor, a loving wife and mother, an entrepreneur and a yoga guru? Yes, we are talking about none other than our very own Shilpa Shetty who still dazzles young hearts with her charming personality.
Shilpa Shetty's weight loss journey!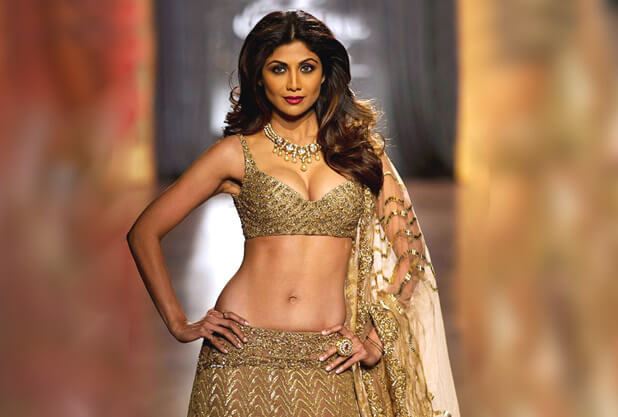 Mother to a cute five-year-old boy Viaan, Shilpa Shetty looks fitter than ever. The post-pregnancy avatar that she dons is not only a killer-look but also oozes confidence. 
Who can forget Shilpa Shetty in the song 'Shut up and Bounce' from the movie Dostana?
I have watched the song several times, not for its music or beats but only to watch Shilpa and her tiny waist doing those moves!
She has crossed miles in revolutionizing yoga and played an important part in propagating yoga as one of the most effective weight loss & fitness methods.
The confident actress did not shy away from posting her before-after pictures on the internet with an aim to inspire millions of mothers out there who were struggling to lose weight.
Shilpa says, "I have always been known for my body, health, and fitness. However, five months after Viaan was born, I didn't think of my weight. I was not able to do some things that I used to do earlier as I had put on 20 kilos. I realised this one day when I went to pick up Viaan. More than about being fat it was about being fit. Fortunately, I had a good trainer. After five-and-a-half months of exercise, I had lost 18 kilos."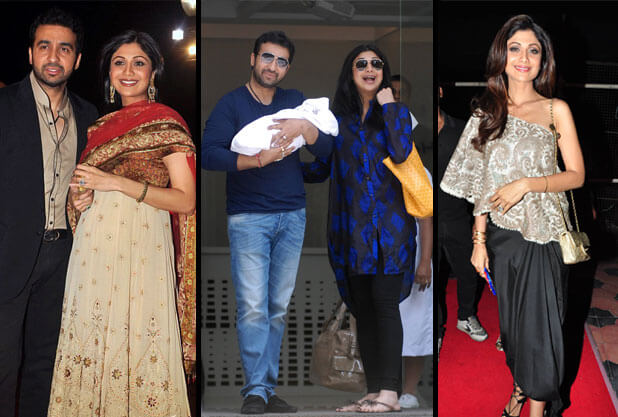 Even while she staunchly believes in fitness and healthy lifestyle, Shilpa Shetty detests the term 'dieting' as she believes that using the term dieting sends a signal to your brain that you are consciously depriving yourself of something you love.
Instead, she believes in making exercise and fitness a lifestyle and we will tell you how in the article. 
Get FREE Health Consultation Today!
Did You Know: Shilpa Shetty gained a whopping 32 kilos during pregnancy?
One thing which is invariably linked to pregnancy is weight gain. To many, being pregnant comes with a genuine excuse to gorge on whatever their heart desires given the various kinds of 'food cravings' they experience throughout their journey.
And rightly so! What is intimidating is the thought of losing that weight after the delivery and this is where most women fail to overcome the bridge.
But Shilpa took it head-on and proved to the world that you can not only lose that weight but also don a hotter avatar only if you have the grit and determination to do so. The actress had also co-authored the book The Great Indian Diet along with nutrition and fitness expert Luke Coutinho.
What Does Shilpa Shetty's Diet Look Like?
On a regular day, this is how Shilpa Shetty's meals look like:
Breakfast:
She starts her day with hot water and a plate of papaya with lemon on an empty stomach.

Shilpa whips up different juices every day, such as red juice (pomegranate, apple carrot, and beetroot, tomato and green and green juice (cucumber and spinach).

A cup of tea with milk.

Porridge or two whole eggs – omelette, boiled or scrambled.
Lunch (her heaviest meal of the day):
The actress has rice or two rotis (made using five different kinds of grains) with two teaspoons of ghee, vegetables, dal, fish or egg bhurji. The actress ends her meal with a piece of jaggery.
Evening snacks (if time permits):
Snacks such as makhanas (fox nuts) sautéed in ghee with salt and pepper

A glass of slim Dahi buttermilk.

Two eggs, if she had started the day early.

Or just a cup of tea with brown sugar.
Dinner (before 8 pm):
Sour soup for proteins.

Stir-fried vegetables or paneer.

Turkey slice or Salmon steak.
Sunday is her cheat day when she gorges on her favourite desserts and junk and whatever food she thinks would make her Sundays comforting and fun. On her cheat days, she does not hold back her cravings and gives in to them without feeling guilty at all. According to Shilpa, cheat meals keep her going.
However, even during cheat days, it is very important to exercise portion control for effective weight loss. 
Note: The above dinner plan was exclusively followed by Shilpa Shetty. If you are diabetic or suffering from other health issues, consult your doctor before following it.
Shilpa Shetty And Her Exercise Routine
When Shilpa's trainer Vinod Channa started training Shilpa to post her pregnancy, she had already put on 32 kg. She had never been this heavy and was keen on getting back to her previous shape at the earliest.
When she started to exercise again, she complained about pain in the neck, lower back, and knees. Her core had become weak due to childbirth. So, she along with Vinod Channa devised a systematic workout plan, which the actress followed to a T and the results are for everyone to see.
They together worked on strengthening her weaker muscles and joints first and then move on to the fat loss process. During the first phase of her weight loss, they worked on strengthening her lower back with a lot of lower back flexibility and strengthening workouts.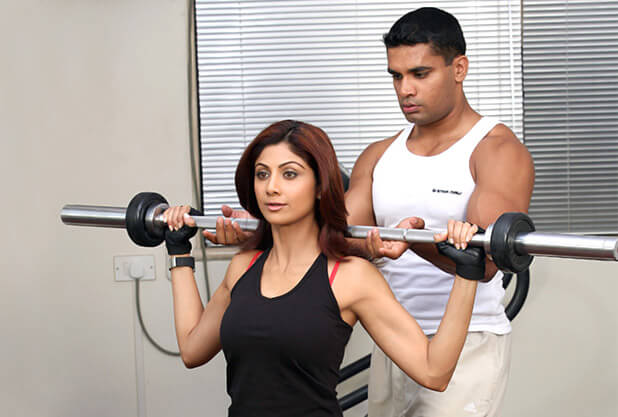 For the knees, they worked on supporting thigh, glutes and transverse oblique muscles. They also added a lot of yoga-inspired exercises and animal flow exercises to condition her body and joint mobility.
This helped her ease the joint pain. Vinod Channa then introduced her to weight training and extreme core exercises which she had not done in past.
They also added functional training, yoga, and blended various exercises to make her shed those 32 kilos.
Shilpa Shetty also says, "When I was losing weight after my pregnancy, I would eat nearly four eggs a day. Eggs keep your stomach full for longer. When you are trying to lose a lot of weight, you always stress about not getting to have food. 
This results in your body producing extra cortisol, slowing down metabolism. Eating has a lot more to do with your mind than your stomach. Don't tell yourself that you are dieting. Make a change in your life to be healthy not because you want to fit into a dress or because you have a party to attend.
Weight gain is a natural process and you must take your time to nurse the baby. If your schedule doesn't allow you to exercise, it is still possible to lose 75 per cent of the baby weight just by eating a balanced diet. But aim for it only after the first four months of delivery."
Through rigorous exercises and a well-balanced diet, Shilpa Shetty was not only able to get her original shape back but also took the world by storm by an elevated level of confidence.
We wish her all the luck for her future endeavours and hope she keeps inspiring millions of people across the globe. For more interesting weight loss success stories, keep following our blogs and we will keep feeding you with more inspirational and life-changing real stories. 
For more information on weight loss, health and nutrition, talk to our Possible Nutritionist today. The first consultation is on us! 
Get FREE Health Consultation Today!