Spinach Chickpea Soup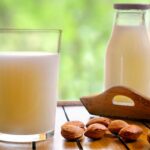 When the iron-rich spinach combines with the fibre rich chickpea then you get a bowlful of health. Try this satiating and tasty spinach chickpea soup now.
3/4 cups shredded spinach (palak).
1/4 cup soaked and boiled Kabuli chana (white chickpeas)
1 tsp olive oil
1 tsp finely chopped garlic (lehsun)
1/2 tsp finely chopped green chillies
1/4 cup finely chopped spring onions whites
1 ½ cups basic vegetable stock
1/2 tsp dried oregano
1/2 tbsp lemon juice
salt to taste
Heat the olive oil in a deep non-stick kadhai, add the garlic, green chillies and spring onion whites and sauté on a medium flame for a minute.

Add the spinach and kabuli chana and sauté on a medium flame for another 2 minutes.

Add the basic vegetable stock, salt, pepper, oregano and lemon juice, mix well and bring to boil.

Serve immediately.
Try This :
Next read : Vegetable Oatmeal Upma
Get FREE Health Consultation Today!