Amaranth Greens Buttermilk Stew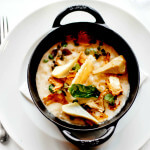 Amaranth is a rich source of minerals such as phosphorus, iron and carotenoids. It's gluten free and technically it's not a grain but the seed of amaranth plant.
Amaranth greens buttermilk stew is a great recipe if you're looking for some healthy options. Check out the recipe to get started.
3 1/2 cups chopped amaranth leaves/thotakura/chauli, packed
1 nos onion, sliced
1/4 tsp turmeric powder
2 cups thick curd (slightly sour curd)
1 1/2 cups water
salt to taste
salt to taste
1 tbsp grated fresh coconut
3 nos green chillis
tbsp fresh coriander leaves (optional)
For seasoning/poppu/tadka:
1/2 tsp mustard seeds
1/4 tsp methi seeds
1/2 tsp cumin seeds
10-12 nos fresh curry leaves
1-2 nos dry red chilli, de-seed and tear (optional)
1/2 tbsp oil
Method
Add half a cup of water to thotakura (1/2 tsp salt) except the onions and cook till they are half-cooked. Keep aside.

Make a paste of grated coconut, green chillis and coriander leaves without adding any water.

Beat the curd well-adding water to form a smooth sauce like consistency. Combine the ground paste with the beaten curd and keep aside.

Heat oil in a pan, add mustard seeds and let them pop, add the cumin seeds, methi seeds and let them turn slightly brown. Add the curry leaves, red chilies and asafoetida, turmeric powder and toss for a few seconds. Add the onions and saute for 4 mins before adding the half cooked thotakura (along with leftover water if any) and combine well.

Add the curd-coconut mixture and on low heat, cook stirring continuously, otherwise it might curdle. Adjust the salt and cook till the leaves absorb the flavors and the gravy thickens. Do not boil. Turn off the heat. Cover it with a lid for a few minutes before serving for the flavors to absorb.

Serve with white rice.