Healthy Snack Black Chana Sundal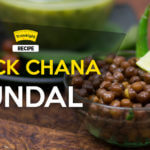 Wouldn't you love an evening snack that will aid in Weight Loss, Cardiovascular health, lower cholesterol, stabilise blood sugar, and is low in glycemic index.
Well, all this goodness can be derived from this black chana sundal. The black chana used in this recipe is a good Source of Protein for Vegetarians.
Apart from that, it also helps in the prevention of Diabetes, is a great source of iron, and is beneficial for Women. Make this popular South Indian snack and enjoy it with piping hot tea!
100 gm Boiled Black Chana
1/2 tsp Oil
2 nos Green Chiillies
1/2 tsp Asafoetida
1/2 tsp Chilli Powder
1 pc Bay Leaf
2 tsp Lemon Juice
Salt – to taste
Method
Take oil in a pan and add green chillies, asafoetida, chilli powder and bay leaf. Saute them.

Add boiled black chana to it.

Sprinnkle some salt and lemon juice and cook.

You are now ready to serve your Healthy snack Black Chana Sundal.
Get FREE Weightloss Consultation Today!