Chola Dal Pancake, A Healthy Breakfast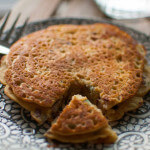 Pancakes!! The name itself rings hunger bells. However, this favorite breakfast item may not have a healthy reputation. So what to do? Well, Possible believes, with a little tweaking, dishes can be made healthier. So here we are making your favorite pancakes healthier and tastier!
Can pancakes be healthy?
Yes, pancakes can be healthy. It is a good source of carbohydrates along with many vitamins and minerals. And with the right recipe, we can make it a very healthy breakfast option.
1/2 cup hola dal, soaked for 4 to 5 hours and drained
1/2 cup finely chopped fenugreek (methi) leaves
1/2 cup grated carrot
4-5 curry leaves (kadi patta), roughly chopped
1 tbsp finely chopped green chillies
1 tsp grated ginger (adrak)
2 tbsp curds (dahi)
Coming back to the tweaking of recipes, we have Indianized the very English pancakes. And what better way than using protein-rich lentils. To make it even more nutritionally potent, we have added a tonne of greens in the form of methi and palak leaves. Surprise everyone by serving this chola dal pancake for breakfast with green chutney or homemade tomato ketchup.
How do you make healthy pancakes?
Few tricks to make your pancakes healthy are:
Minimise the amount of oil used.

Use low-fat milk or soy milk.

Use whole-wheat flour / multi grain flour/millet flours.

Add oatmeal to the recipe.

To cut down the cholesterol, you can use the egg whites instead of the yolk.

Add fruits like banana in the recipe.

Instead of sugar, use other healthy sweet sources like jaggery/honey.
4 Health benefits of pancakes that every pancake lover should know:
Plain pancakes have manganese which is beneficial for bones.

Pancakes, when prepared healthily, provide a good source of vitamins and minerals.

Pancakes also serve as sources of calcium, phosphorus, riboflavin and thiamine.

Pancakes prepared with whole grains are high sources of fibre and B vitamins.
Method
Cook the soaked & drained chola dal for 1-2 whistles.

Blend the boiled chola dal in a mixer to a coarse paste adding a little water if required.

Transfer to a bowl, add the fenugreek leaves, carrot, spinach, curry leaves, green chillies, ginger, curds, oil, salt and a little water (approx. 1/4 cup) and mix well.

Just before making the pancakes, add the fruit salt and 2 tsp of water over it.

When the bubbles form, mix gently.

Pour a little batter on a greased tava (griddle) and spread it evenly to make a 100 mm (4") diameter circle.

Cook on both the sides, using a little oil, till they turn golden brown in colour.

Repeat with the remaining batter to make 5 more pancakes.

Serve immediately with tomato ketchup or green chutney.
Want a few more healthy pancake recipes? Here are two more Possible's healthy pancake versions:
Ingredients
Oats flour-40, Shake-A-Day (25 g), Banana-50 g, Baking powder-a pinch, One whole egg/ 2 Egg white, Cinnamon powder-2 pinch, Flaxseed powder-½ tsp, Oil/ Butter-5 g or 1tsp, Fruits to serve- 200 g or 1 bowl, honey/ Maple syrup -1 tsp (optional)
Method
Mix all the above ingredient, run everything through the blender on medium to low speed until well mixed.

Heat a nonstick griddle to medium heat. Add the batter in small circles.

Flip each pancake after cooking for about 2-3minutes on each side or until batter start to bubbles.

Top pancakes with fruits & 1tsp of honey to serve.
Did you see how your favourite pancakes are modified into better ones? To know more about recipes and their healthier alternatives, follow our blogs. And to know about food, diet plans and natural weight loss program, click here to consult a Possible consult today! ALL FOR FREE!
Quick bytes

1. Can you eat pancakes with diabetes?

Pancakes may not be a very healthy choice for people with diabetes. However, like already mentioned, replacing a few ingredients, even pancakes can be made healthier for diabetic people like oatmeal pancakes, apple pancakes, chole dal pan cakes etc.

2. Are pancakes really fattening?

This will depend on the recipe and the amount of pancakes you are consuming. Having homemade pancake once in a while won't affect much.