Chole Chaat Recipe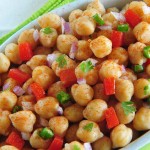 Chaat…yummm! Just the name is enough to make you crave for it. But then, street foods aren't all that healthy and if you're trying to maintain a healthy diet, you need to make sacrifices.
But here's the thing, you can make chole chaat at home and it's one of the healthiest recipes you'll come across. This recipe is certainly going to jazz up your taste buds.
Chickpeas are rich in fiber and protein (15g). Adding olive oil makes it a good source of vitamin E. The added vegetables are rich in vitamin A and C.
1 bowl Chickpea
Onion
Tomato
Garlic, ginger
coriander and green chillies
Can add mushroom, capsicum (optional)
Extra virgin olive oil
Soak chickpeas overnight in water and boil them.

Add vegetables and ½ tsp olive oil.

Add salt, red chilly powder and chaat masala to taste. You can also add tamarind chutney.

Another variation can be to saute all vegetables in olive oil and imli chutney and then mix it with boiled chickpeas. Add chaat masala on top
Nutritional comments: The major ingredient that adds value to this recipe is chick peas.
Get FREE Health Consultation Today!