Exotic Paneer Tikka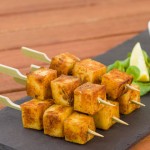 Enjoy the warm food paneer tikka with truweight healthy guide
the main ingredients for paneer tikka:
200 gm paneer/cottage cheese
1/2 large red bell pepper
1/2 large yellow bell pepper
1/2 large green bell pepper/capsicum
1 medium onion
1 large tomato
50 gm broccoli
for the marinade:
200 gm hung curd (thick curd) whipped
1 tbsp ginger garlic paste
1 tsp ajwain seeds
1-2 tsp kashmiri red chili powder
1/2 tsp turmeric powder
1 tsp jeera powder/cumin seeds powder
1 tsp dhania powder/coriander powder
1/2 tsp garam masala powder
1 tsp amchur powder/dry mango powder
1 tsp chaat masala
1/2 tsp black pepper powder (optional)
juice of half lemon
salt & black salt to taste.
METHOD-
chop the paneer in square shaped cubes.

the veggies also should be chopped in square shapes. Cut broccoli in medium pieces.

keep the chopped veggies and paneer aside.
the marinade:
in a large bowl, take the curd and whisk it till it becomes smooth

add ginger garlic paste and all the spice powders plus ajwain, including black salt.

mix the spice powders with the curd.

you could also add ½ tsp oil.

add the veggies and paneer to the marinade.

marinate for atleast 2 hours or more.

After 2 hours the marinated paneer will be ready to cook

skewer the veggies and paneer alternately on skewers or kabab sticks.

preheat the oven for 3 minutes at 180 degree celsius.

on a rack or a plate arrange the paneer skewers.

brush some oil on the veggies and paneer.

bake the paneer tikka for 20-25 minutes at 180 degree celsius.

after 10 remove the skewers, and turn the skewers.

keep again in the oven and bake for a further 10-15 more.

arrange the panner tikka on a plate

sprinkle some chaat masala on paneer tikka.

serve the yummy panner tikka with mint chutney and onion rings with lemon wedges.