Papaya Salad- The Delightful Taste with Sunlit Tropical Colours!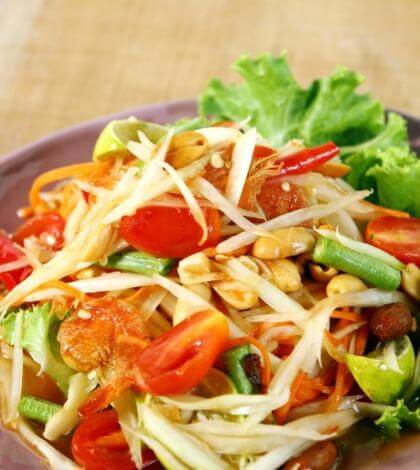 Papaya SaladPapaya the tropical fruit, is the powerhouse of folate, vitamin-A, magnesium, copper, pantothenic acid and fibre. To count the health benefits of papayas, it contains helpful antioxidants that lower the risks of cancer, regulates the bowel movements, and prevents chronic diseases like asthma and diabetes. Hence, it is essential to add papayas into your healthy regime.
Dear readers, we bring to the exquisitely tasteful papaya salad at its best!
1 nos green papaya, peeled and shredded finely
2 diced tomatoes
Handful of green beans, blanched and chopped
4-5 nos spring onion (chopped)
1 tbsp roasted peanuts (crushed)
Small bunch fresh Thai basil leaves (optional)
Finely chopped coriander leaves
1/2 iceberg lettuce, shredded
5-6 garlic cloves (crushed
1 tbsp crushed sugar or honey preferably
Lime juice
1 tbsp dark soy sauce
Salt to taste
METHOD
In a big bowl, mix all the above mentioned ingredients nicely. Keep the papaya salad in the fridge for 1 hour and serve chilled!