Gluten Free Atta Soup Recipe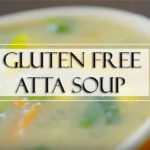 This health bowl with gluten free atta soup is sure to get your taste buds tingling.
It's quick, easy and extremely nourishing; filled with carrots, capsicum, corn and onions.
You could whip up a green salad to turn it into a hearty meal.
2 tbsp gluten free atta
1 or 2 carrots
1 capsicum
1 small cup corn
3-4 springs onions
3 cup water
Salt and pepper to taste
Add chopped vegetables to 2 glasses of water and cook the mixture.

Add 2 tbsp of gluten free atta in a cup of cold water, stir it well (see that lumps are not formed).

Add the atta mix to boiling water with chopped vegetables.

Cook for 10 minutes on a medium flame. If needed, add some more water and boil for some time.

Add salt and pepper to the soup.

Garnish with coriander leaves and serve hot.
Also read: Need to Know About Gluten Free Foods