Colorful Mixed Pepper & Corn Salad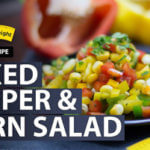 This time, Possible brings to you a colorful treat of bell peppers and sweet corn.
The brightly coloured veggies actually belong to the chilli pepper family, but their mild flavour and juicy crunch jazzes up a salad, adds a delightful crunch to pizzas, and tastes fantastic when grilled!
Loaded in carotenoids and vitamin C, this bell pepper and corn salad can definitely add a lot of body to any drab main dish! Oh, let's not forget the capsaicin in them as well!
Go ahead, dig into this simply tasty salad.
30 gm Green Bell Pepper
30 gm Red Bell Pepper
50 gm Yellow Bell Pepper
50 gm Sweet Corn (boiled)
2 tsp Coriander Leaves
1 tsp Green Chilli
1 tsp Lemon Juice
1/2 tsp Pepper Powder
Salt – to taste
Take a bowl and place green bell pepper, yellow bell pepper, red bell pepper and sweet corn in it.
Add coriander leaves, green chilli, lemon juice, pepper powder and salt to it.
Mix them thoroughly and serve.
Get FREE Health Consultation Today!