Medical Reviewed by Ashwathy V. Pillai, Postgraduate Degree in Dietetics & Applied Nutrition
Coriander or Dhania is a must-have in every Indian kitchen. Freshly chopped coriander leaves are a great addition to nearly all the dishes but did you know the health benefits of coriander.
A simple aloo ki sabzi or even a dal tadka starts to taste heavenly with just a dash of coriander.
Green coriander leaves are very often used to garnish curries, salads, chuntney and soups.
Coriander is a herb with many healing properties. 
Coriander is a readily available source of carbohydrates, fats, important proteins, vitamins, minerals, essential amino acids, and dietary fibers.
Table of Contents
It has a wide range of biological functions, including antioxidant and antimicrobial activities and is found to be very helpful in the management of oxidative stress and ageing-associated diseases.
Get FREE Health Consultation Today!
It can be used as a natural remedy to regulate menstrual cycles.
History of Coriander: The Herb Hero!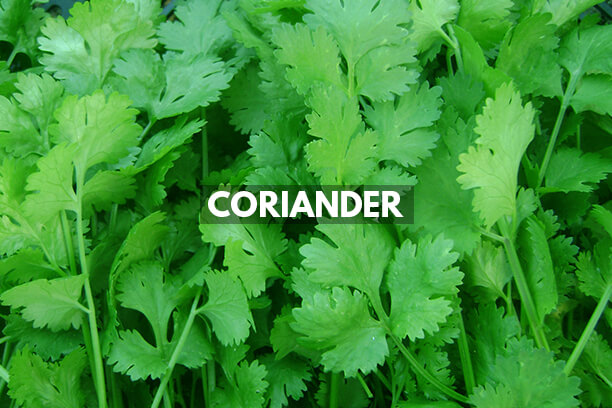 Coriander has been used as a digestive aid for thousands of years, with evidence of its use dating as far back as 5,000 B.C.
It has been mentioned in Sanskrit texts, ancient Egyptian papyri, the Old Testament and the writings of the Greek physician Hippocrates.
The Roman armies brought it to Europe, where it was used to preserve meats, and the Chinese believed it counteracted food poisoning.
Coriander grows wild over a wide area of Western Asia and Southern Europe, and archaeological findings point toward cultivation by ancient Egyptians.
It also appears to have been cultivated in Greece since at least the second millennium B.C.
In 1670, it was first brought to the British colonies of North America and was one of the first spices cultivated by early settlers.
10 Ways How Coriander Benefits Our Health
Coriander lowers bad cholesterol (LDL) and increases the levels of good cholesterol (HDL).

A very good food for digestive system, coriander promotes liver functions and bowel movements.

Coriander is good for diabetes

patients. It can stimulate the insulin secretion and lower the blood sugar levels [3].
Vitamin K in it is good for the treatment of Alzheimer's disease.
The fat soluble vitamin and antioxidant- Vitamin A, protects from lung and cavity cancers.
Coriander contains anti-inflammatory properties. This is why it is good against inflammatory diseases such as arthritis.
Coriander antiseptic properties help to cure mouth ulcer.
Coriander is good for the eyes.

Antioxidants

in coriander prevent eye diseases. It is a good remedy in the treatment of conjunctivitis.
It is a very good herb to promote the nervous system. It can stimulate the memory.
Coriander helps those suffering from anaemia. Coriander contains high amounts of iron, which is essential for curing anemia.
Benefits of Coriander Seeds 
Adding coriander seed powder to your food ensures that you get a dose of calcium, iron, and phosphorous, along with carotene, ascorbic acid, riboflavin, and folic acids.
Get FREE Health Consultation Today!
Coriander volatile oil extracted from coriander seeds is also rich in beneficial phytonutrients like carvone, geraniol, limonene, borneol, camphor, elemol and linalool.
It also has flavonoids, including quercetin, kaempferol, rhamnetin and apigenin, as well as active phenolic acid compounds, including caffeic and chlorogenic acid.
Did You Know?
One tablespoon of coriander (Coriandrum sativum) seeds contains

15 calories 

2.8 grams carbohydrates

0.6  gram protein

0.9 gram fat

2.1 grams fiber

0.8 milligram iron (4.6 percent DV)

16 milligrams magnesium (4 percent DV)

35 milligrams calcium (3.5 percent DV)

20 milligrams phosphorus (2 percent DV)

1 milligram vitamin C (1.7 percent DV)

Nutritional Value of Coriander/Dhania Juice
Coriander juice contains many beneficial acids like linoleic acid, ascorbic acid, stearic acid, and palmitic acid that help in the regulation of the endocrine glands.
Drink a glass of coriander juice every day to regulate menstrual cycles and relieve related period pains.
Being a photosynthetic leafy plant, is has high levels of vitamin K when compared with other fruits and vegetables.
It has compounds that have antidiabetic, antihistamine, anti-carcinogenic and hypolipidemic properties.
Including coriander juice in your diet can give many health benefits. It's easily available, inexpensive, and can be added into your green smoothie.
And If you don't like having it as a juice, you can also sprinkle a healthy portion of chopped coriander on salads.
So here was all we had to tell you about coriander or our beloved Dhania, which we often expect to get for free from vegetable vendors, clearly underestimating its health benefits!
So the next time your vegetable vendor refuses to add free coriander leaves to your vegetable bag, do not feel sad, rather pay happily!
For more on fitness, nutrition and weight loss, contact our expert Possible Nutritionist today. The first consultation is on us. Click here to avail!
Get FREE Health Consultation Today!