Roasted Bell Pepper Soup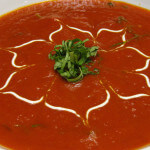 If you absolutely love capsicum then this is the perfect recipe for you. Capsicum's high antioxidant value and its pleasant flavour are sure to make this roasted bell pepper soup your favourite.
2 red peppers
½ tbsp olive oil
2 minced garlic cloves
1 onion/red onion, chopped
1 ½ cups vegetable/chicken broth.
Roast the bell peppers on a cooking grill or directly on the stove until the skin is blistered.

Remove the peppers off the heat and peel off their skins. Slice in half and remove seeds. Cut into large chunks/pieces and set aside.

In a saucepan, heat oil over medium heat. Add garlic and onions. Sauté until onions are very soft.

Stir in roasted peppers and continue cooking until peppers are very soft. Then blend in a blender or food processor, using an on-and-off motion, until smooth. Add this puréed mixture to the saucepan and add the broth. Cover and cook over medium heat, stirring occasionally until soup is warm.

Serve in soup bowls and sprinkle black pepper.