Mixed Green Frittata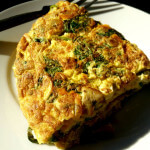 If you're looking for a change from your monotonous eating habits, allow us to spice up things for you. How about making some mixed green frittatas?
This Italian dish will certainly spice up your mood but more importantly, it comes in a healthy package tailored for your health. Wanna know how to prepare it? Just go through the recipe.
2 teaspoons olive oil
2 tsp garlic, minced
2 cups mixed greens, torn in bite-sized pieces (kale, chard, spinach)
2 eggs + 2 egg whites
1 tbsp cottage cheese
1 tbsp grated parmesan cheese
1 tbsp flour
1⁄2 tsp salt
Heat 2 teaspoons of oil in a large non-stick frying pan over moderate heat. Add the onion and garlic and cook for 2 minutes. Add the greens and cook, stirring often, for 7 minutes or until they become tender. Transfer the greens to a plate and wipe the frying pan.

Combine the whole eggs, egg whites, ricotta cheese, Parmesan, flour and a pinch of salt in a food processor. Add the remaining oil to the frying pan and heat over moderate heat. Add the greens and the egg mixture, then cook without stirring for 10 minutes or until the edges of the frittata are set and the centre is slightly wobbly.

Preheat the griller. Grill the frittata 15 cm from the heat for 1 minute or just until the centre is set. Serve immediately.