Iron & Vitamin C Booster Smoothie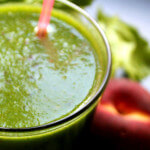 A smoothie can be a great during summers as it can help you maintain your iron and vitamin requirements. In this recipe, all you need is a handful of spinach, an orange and a banana. Glance through the recipe once and you can make it in the blink of an eye.
2 Handfuls Spinach
1 nos Orange, Juiced
1 nos Rib of Celery/ coriander
1 nos Banana
1 cup Water or Coconut Water
Method
Combine all the ingredients in a blender and serve with crushed ice.