Seeds Cocktail Chutney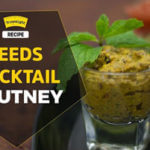 Did you know, eating seeds can also result in weight loss? Because of this reason you could go nuts over seeds in our article! Also, if you are among those who find nuts hard to digest then seeds extracted from fruits, flowers and vegetables can be a healthy alternative.This Possible's Seeds Cocktail chutney provides protein, host of minerals and monounsaturated fats. A definite try, we say!
1 cup seeds cocktail
1/2 cup roasted peanuts
15-20 nos garlic cloves (lehsun / lasun
6-9 tsp red chillies / 15-20 black pepper seeds
1 tsp salt / kosher salt
Dried curry leaves ( optional)
Method
Roast seeds cocktail on low flames until it starts crackling. You can also roast flax seeds in a microwave oven for 3 minutes. Let it cool down.

Mix roasted seeds cocktail, roasted peanuts ,garlic (lehsun), red chilli powder /black pepper/ sun dried green chilies, salt and make a coarse powder of it in a grinder.

Store this flax seed chutney in an airtight container. it has 15- 20 days of shelf life and there is non-need to refrigerate this recipe.

You can eat this tasty flax seeds chutney with your meals by adding it to salads, Mix it with curd and serve it with your meals.