Sunshine Salad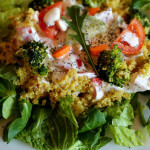 Eating salads can get you all essential nutrients while keeping you full at the same time due to its fibre content. The best part about sunshine salad is that you can make it at home in minutes, all you need to do is get green vegetables and fruits. Wanna know more about the sunshine salad recipe? Go thorough the ingredients and preparation method.
1 bowl fresh green baby spinach leaves (washed and blotted),
1 sweet and tangy ripe orange (peeled, de-seeded and cut into 1-inch cubes),
1 tsp toasted chopped walnuts,
1 red onion (thinly sliced),
salt and pepper,
1/2 tsp olive oil,
1-2 tsp balsamic vinegar,
1 tbsp orange juice or lime juice,
1 tsp feta cheese/paneer crumbled,
1 tsp raisins
Method:
For the dressing, mix orange juice in a small box with balsamic vinegar, olive oil and walnuts.

In a large bowl, add baby spinach leaves, raisins/cranberries and orange pieces. Then, add the dressing and toss gently but thoroughly.

Then add the feta cheese/paneer crumbles and fresh strawberries. Serve immediately.