Tandoori Paneer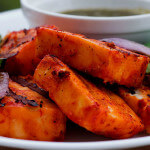 Tandoori paneer is a great source of protein, especially for vegetarians. Paneer is an all-rounder when it comes to dishes. Mix it with anything and it tastes good as always. This Tandoori Paneer recipe is a boon to your taste buds. Check out the procedure.
1 tsp ginger (adrak)
1-3 nos green chillies
1/2 tsp green chillies
1 nos garlic (lehsun) cloves
3/4 tsp garlic (lehsun) cloves
1/4 tsp chilli powder
1 nos capsicum cut into fine rings
few drops of orange colour
1 tbsp oil
1 tbsp lemon juice
Method:
Combine the garlic, ginger, cumin seeds and green chillies and blend in a mixer and make a smooth paste.

Add the salt, chilli powder and lemon juice to the paste and add orange colour and mix well.

Apply 3/4 of this paste nicely on all the sides of the paneer pieces.

Keep the leftover paste aside.

At the time of serving, keep this paneer in a greased dish and grill for 10 minutes or till it is dry and crisp.

Heat 2 tbsp oil in a pan, add the onions and saute for few minutes.

Add the leftover paste and a few drops of lemon juice, salt and paneer pieces and mix well.

Sprinkle tandoori masala.

Serve immediately.