Vitamins D and B12 deficiency and weight gain have been found to be directly related, with research suggesting that a complicated relationship exists between the amounts of minerals and vitamins one consumes and how much one weighs.
According to a study which compared obese and healthy adults, 20% more obese adults were found to lack magnesium and vitamins A and C and didn't meet the recommended requirements for vitamins E, D, and B12 either.
Table of contents
What vitamin deficiency can cause weight gain?
Apart from vitamins C, and E, vitamins A, D and B12 deficiency and weight gain are more common.  
1] Vitamin B12:
Vitamin B12 deficiency and weight gain are directly related. Vitamin B12 deficiency results in severe symptoms of weakness, dizziness, fatigue, and more with people not realizing the connection between the deficiency and the lack of energy.
This lack of energy translates into greater food intake due to one being tired all the time and lesser exercise, fuelling weight gain.
Vitamin D deficiency can cause lethargy and fatigue, with people being less active as well.  This translates to lower energy, increased hunger levels, lesser body activity, and weight gain.
Get FREE Health Consultation Today!
Low vitamin D and weight gain are related in other ways too – Studies have suggested that vitamin D plays a major role in releasing leptin, the hormone controlling the hunger senses and fat storage in the body.
Vitamin D deficiency affects both senses, leading to weight gain. Do you have vitamin D deficiency? Find out.
3] Vitamin A

:
According to research, Vitamin A could play a major, direct role in maintaining healthy body weight because it is linked to fat cells regulation and the hormones they release. Here's everything you need to know about vitamins and why they're so important for your health.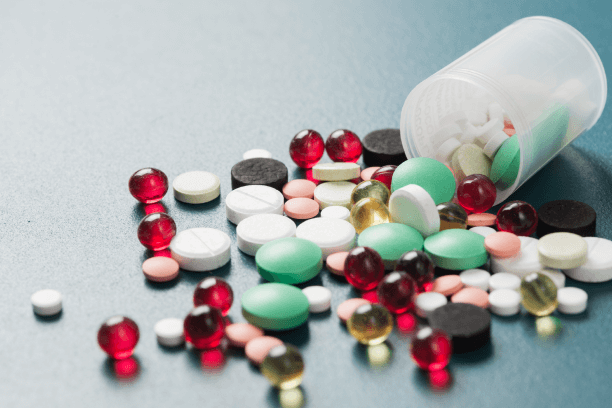 How do vitamin deficiencies lead to weight gain?
1) Cravings:
When nutrient levels are lesser, the brain's appetite centers are triggered, causing uncontrollable cravings and a ravenous appetite.
This is caused due to lack of vitamins B-12 and D, and iron. As a result of eating high-calorie foods more and uncontrollably, weight gain is all but inevitable.
2) Fatigue

:
Low levels of nutrients result in fatigue and limit activity, which sabotages all and any intentions one has of getting active and fitter.
Weight gain, in this case, occurs more due to inactivity than anything else.
3) Slow metabolism

:
Nutrients not only maintain body chemistry but also build bone and muscle, keep the mood normal, burn fat and sugar, and create energy, so, obviously, lack of nutrients ends up slowing the body's metabolism, which is a huge factor contributing to weight gain.
4) Higher BMIs

:
Higher BMI could be an indication of vitamin D deficiency; people with high BMIs generally tend to eat more high-calorie, less nutritious foods, leading to weight gain. Check your BMI.
If you're worried about not getting enough nutrients, here's a list of the important ones.
How to deal with vitamin D and B12 deficiency and weight gain?
1] Nutrient levels need to be increased, of course. Vitamin D levels can be raised by consuming more egg yolks, herring, sardines, salmon, etc.
Deficient vitamin B12 levels can be raised by consuming animal products such as dairy products, eggs, shellfish, fish, poultry, and meat.
2] A sedentary lifestyle is the other major culprit, apart from lower nutrient levels. It is necessary to maintain a balanced, healthy diet and get in some regular, consistent exercise in order to strengthen the immune system and lose weight.
Improving your food quality, consciously taking in nutrients and putting them to good use via will all go a long way towards doing away with your deficiencies and shaping a healthy you.
Start off your new journey with us.
Get FREE Health Consultation Today!
QUICK BYTES

1] What vitamins are good for losing belly fat?

Vitamin D converts sugar to energy right away, so make sure you do not have vitamin D deficiency.

Vitamin B12 and other B complex vitamins help your body absorb certain nutrients the right way and help the body turn those into energy rather than fat weight.

They also assist in metabolizing fat, protein, and carbs, and fuel weight loss. The vitamin CLA fastens the fat breakdown process, facilitating belly fat loss.

2] What vitamins to take to gain weight?

Regardless of claims, no specific vitamin can induce weight gain. However, certain foods rich in vitamins work wonderfully for weight gain.

These include dried fruit, butter, banana, all kinds of beans (chickpeas/kidney beans/lentils etc.), eggs, dark chocolate, granola, fruit juice, white meat, and mayonnaise.

3] What vitamin deficiency causes obesity?

Obesity is linked to a specific deficiency of vitamin D. Research suggests that individuals who suffer from genetic obesity have lower vitamin D levels in their genes.

Conversely, obese people have been found to have low vitamin D and higher BMI, which lead to weight gain.