Refreshing Bottle Gourd Ginger Juice Recipe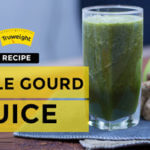 Nothing can be healthier as well as refreshing than a glass of vegetable juice. That is why, to quench your thirst in a healthy way, Possible is introducing you to the vegetable that is usually relegated to the sidelines or comes to the limelight only in the form of halwa.
We are talking of bottle gourd or lauki or doodhi! With almost 92% being water, bottle gourd has known to be beneficial for weight loss and general health from time immemorial.
While many may find eating this vegetable as drab, we bring to you a mildly spiced bottle gourd juice wherein you can derive all of the health benefits.
An excellent source of Vitamin A, Vitamin B5, Manganese, Potassium, Copper, total dietary fibre Vitamin B6, Vitamin C, and Magnesium; bottle gourd unassumingly helps prevent a lot of lifestyle conditions.
When this nutritional powerhouse combines with ginger, mint, and coriander; then it makes for a great drink! Chill it or grind it with ice cubes to make it a refreshing drink! Weight loss drinks never tasted so good!
100 gm Bottle Gourd
1 pc Ginger
20 gm Coriander Leaves
10 gm Mint Leaves
1/2 tsp Black Salt
1/2 tsp Pepper
Salt – to taste
Salt – to taste
Method
Place all the above ingredients in a blender. And blend them. You can now enjoy your glass of bottle gourd juice and get refreshed.