Brown Rice Sprouted Pulao Recipe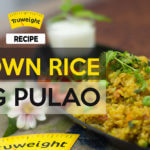 What happens when nutrition meets taste? It results in brown rice sprouted pulao. Try this eclectic and tasty mix today.
Combining the 2 really good sources of fibre namely brown rice and mix bean sprouts, this is one tasty recipe that fits the health bill too! Sprouts bring not only health but also a rich mouthfeel to the pulao that you will simply love this pulao.
Have it as it is or eat it with a vegetable raita! This one is surely going to be a big healthy hit with everyone in the family. Try it and provide a feedback
50 gm Soaked Brown Rice
50 gm Onion
50 gm Mixed sprouts (Moong, Chickpeas, Lobia)
1/2 tsp Cumin seeds
1 tsp Ginger garlic paste
1/2 tsp Coriander powder
1 tsp Green chillies
1/2 tsp Turmeric powder
1/2 tsp Chilli powder
1/2 tsp Cumin powder
1 no Bay leaf
1 no Cinnamon
2 nos Cloves
Salt – to taste
Water – as required
1/2 tsp Oil
Put oil in the pressure cooker. Heat it and then add cumin seeds, bay leaf, cinnamon and ginger garlic paste to it and heat them.

Add green chillies, onions, mixed sprouts to it and mix them.

Add turmeric powder, chilli powder, coriander powder, cumin powder and salt and mix them further.

Now, add the soaked brown rice to it with required amount of water.

Cook well and you are ready with your brown rice sprouts pulao. Bon appetit!