Dal Chutney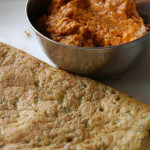 Did you know, the year 2016 has been denoted as the International Year of Pulses? And why not, dals are indeed versatile and it helps us and the environment in many ways. A good vegetarian source of protein, this dal chutney is definitely a side worth a mention!
1 tbsp Chana Dal
2 tbsp Grated Coconut
3 Red chillies
4 green chillies
Tamarind – A peanut size lump
Salt – As required
Coriander Leaves(optional) – To garnish
To Temper
1 tsp Oil(Sesame oil tastes good)
1 tsp Mustard seeds
1/2 tsp Urad dal
5 chopped finely Small Onion
few Curry Leaves
Method
Heat 1/4 tsp of oil and roast red chillies in low flame. Set it aside.

Heat 1/2 tsp oil in the same pan. Roast chana dal on a low flame till it starts changing colour. Do not burn it. Just roast till nice aroma comes. Keep it aside.

Heat the remaining oil in the same pan and add mustard seeds. Allow it to splutter. Add urad dal and curry leaves. Saute till nice aroma comes. Add finely chopped small onions and saute till they turn translucent. Switch off the stove.

Once the roasted dal and red chillies cool down, grind them in a mixer with grated coconut, tamarind, salt and required water.

Transfer the ground chutney to a serving bowl and add the tempered items. Add required water and mix well before serving.

Goes well as an accompaniment to dosas, chapatis, chillas etc.