Chickpea And Vegetable Salad Recipe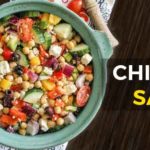 Do you like adding legumes to your salad? If yes, you will love this nutritious recipe in which chickpeas has been added with other vegetables. Why chickpeas? Because chickpeas are rich in fiber, manganese, folate, and it provides you with a vegetarian-friendly source of protein. Without thinking much, try out this healthy recipe!
100 gm Boiled chickpea
2 tsp Diced cucumber
2 tsp Diced tomato
2 tsp Diced capsicum
2 tsp Onion
2 tsp Broccoli florets
15 ml Olive oil
Salt- to taste
Black pepper- to taste
2 gms Chopped coriander
1 tsp Lemon juice
Method of preparation:
First, for the dressing, in a bowl add salt, pepper, lemon juice, olive oil, and mix well.

In a large bowl, add the boiled chickpeas, bell pepper, tomato, broccoli, cucumber, onion, and add the dressing to it.

Mix the salad well and serve.
Get FREE Health Consultation Today!