Darbari Dal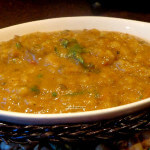 Darbari dal is a great source of protein in the Indian cuisine. It's a good mix of toor dal, masoor dal and bottle gourd. The recipe has been tweaked to ensure that get all the health benefits. Wanna learn more about it? Keep reading!
1/4 cup Toor dal
1/4 cup masoor dal
1/2 cup chopped bottle gourd
2 tbsp chopped onion
2 tbsp chopped tomato
1 tbsp chopped green chillies
salt to taste
1 tsp turmeric powder
1 tsp garam masala
Method
Clean, wash and soak the dals for about 30 minutes. Drain.
Pressure cook the dals with 1.5 cups of water, turmeric powder and salt till done
Whisk well till the dal is mashed and keep aside.
Heal oil in a pan, add the onions and sauté till the onions turn translucent. Add tomatoes and green chilies and saute
Add bottle gourd, masala and turmeric and cook till it gets tender. Add cooked dal and water.
Simmer for some time and serve.