Vegetable Kadhi Recipe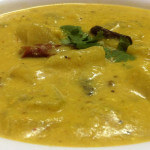 Vegetable kadhi! A lot of vegetables are always welcome to a healthy plate.
Let's try this new recipe that will satiate the vegetarians and give them a lot nutrients in one bowl.
1 cup chopped and boiled mixed vegetables (carrots , french beans , cauliflower, green peas)
1 cup fresh curds (dahi)
1 and 1/2 tbsp besan (bengal gram flour)
1/2 tbsp oil
1/2 tsp mustard seeds ( rai / sarson)
1/2 tsp cumin seeds (jeera)
1/4 cup finely chopped onions
1/2 tsp chilli powder
1/4 tsp turmeric powder (haldi)
1/4 tsp coriander-cumin seeds (dhania-jeera) powder
Salt to taste
For The Garnish
2 tbsp finely chopped coriander (dhania)
Combine the curds, besan and 1¼ cups of water in a bowl and whisk well till no lumps remain. Keep aside

Heat the ghee in a deep non-stick pan and add the mustard seeds and cumin seeds

When the seeds crackle, add the onions and sauté on a medium flame for 2 minutes

Add the chilli powder, turmeric powder and coriander-cumin seeds powder and sauté on a medium flame for a few seconds

Add the curds-besan mixture, mix well and bring to boil. Cook on a slow flame for 7 to 8 minutes, while stirring continuously for at least the first 3 to 4 minutes.

Add the mixed vegetables and salt, mix well and cook on a medium flame for 1 to 2 minutes

Relishicious isn't?
Also, Try this healthy Moong Dal & Brown Rice Khichdi!