Healthy Choice: Moong Dal & Brown Rice Khichdi!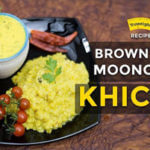 Khichdi is easy to cook, one pot Indian cuisine. Brown rice alone has many health benefits and it is better than white rice, while moong dal packed with protein and low carbs make it a perfect combination of healthy food.
This recipe is solely for people undergoing Possible Detox Program as it helps to improve your metabolism and give best results.
30 gm yellow lentils washed, soaked in clean fresh water and drained (yellow moong dal)
50 gm brown rice washed, soaked in water for at least one hour, and drained
3 cup water
Salt
Cumin seeds
1 tsp Groundnut oil
Method:
Heat oil in a skillet

Add cumin seeds

Allow to splutter

Fold in yellow lentils and rice

Stir in salt and water

Bring to a boil

Lower flame, partially cover and cook till the water has evaporated and rice is cooked

You can also pressure cook it for faster cooking
Nutritional facts about Brown Rice
Brown rice is considered as a healthy alternative to white rice and is often recommended to people belonging to different age groups.
Brown rice is found to be helpful in reducing blood glucose levels in Diabetic people

Having brown rice helps in lowering different risks of metabolic syndrome that in turn helps in protecting the heart health.

Replacing brown rice in place of white rice can help in weight loss.

Brown rice is also found to be effective in reducing cholesterol levels.
Serve hot with a pickle!
Get FREE Health Consultation Today!