The Great Hulk's Health Green Soup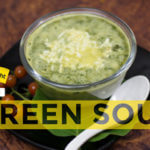 Who is that one super hero that comes to your mind when we say "strong"? Well it has to be the Hulk! That is why, Possible thought of bringing a dish as powerful as the Hulk. This green powerful nutritional soup is a combination of broccoli, spinach and ginger. Broccoli is a very good source of dietary fiber, pantothenic acid, vitamin B6, vitamin E, manganese, phosphorus, choline, vitamin B1, vitamin A. Spinach, on the other hand, brings forth niacin, zinc, protein, fiber, vitamins A, C, E and K, thiamin, vitamin B6, folate, calcium, iron, magnesium, phosphorus, potassium, copper, and manganese to the table. Wow! That is a lot of nutrients for 2 simple ingredients. So boost your health up with this health boosting green soup!
50 gm Onion
50 gm Broccoli
50 gm Spinach
20 gm Coriander Leaves
20 gm Parsley
1 tsp Oil
1 tsp Garlic
1 tsp Ginger
Salt – to taste
Water – as required
1 tsp Paneer
Method
Take oil in the vessel and add garlic, ginger, onion and broccoli to it and saute it.

Add spinach,coriander leaves, parsley and salt to it, as shown.

Add the required amount of water to it and cook for 10 mins.

Then place the entire mixture in a blender and blend it.

You are now ready to have your the great Hulk's health green soup.