Grilled Chicken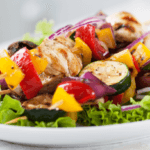 We don't need to sell this delectable recipe to you, do we? Your high-protein, weight loss fix is guaranteed with this grilled chicken recipe. Who says healthy foods needn't taste good! Vegetarians can substitute this with paneer. Dig in and let us know!
100 gm Chicken
50 gm onion paste
spices:turmeric , red chilli powder, ginger garlic paste,cinnamon,( corn flour or chana flour) cardamon salt to taste garam masala
Method
Wash the chicken pieces and marinate for ½ hour in turmeric and curd mixture.

Add onion paste and all the spices together to form a smooth paste.

Rub this paste on chicken pieces.

Spray the grill pan and grill chicken on medium heat for 5 minutes each side or until it becomes tender.
Get FREE Health Consultation Today!