Kuttu Ka Chilla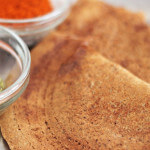 Kuttu ka chilla is a great alternative to regular dosa. Buckwheat, also known as Kuttu is a great alternative to rice. For people who have issues with grains with protein gluten, Kuttu or Buckwheat is a great option. Kuttu ka Chilla is easy to prepare and if you're interested to learn more about it, just keep reading!
Buckwheat flour:
1 tbsp Green chillies(deseeded and finely chopped):
Salt.
Yoghurt
Mint leaves: a few.
Method
Mix kuttu flour, yoghurt, salt, green chillies, chopped mint leaves in a bowl to prepare a batter for desired consistency.
Now, heat the non stick pan and pour a spoonful of the batter and spread in circular motions and make like dosa.
Drizzle some oil drops over the sides of the chila and cook.
Cook till golden brown on the lower side and fold over.
Get FREE Health Consultation Today!