Nutritious Dabba: Methi Dal Recipe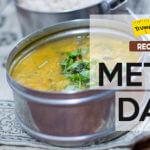 Are you game for twisting up your regular "dal" time? Possible brings to you a simple recipe of methi dal. Methi leaves or fenugreek leaves are a good source of protein. It is rich in calcium, phosphorus, and a good source of Iron and vitamin C. Steaming is considered the best way of cooking this herb, as all the vitamins are retained. The protein content in dried fenugreek leaves or Kasuri methi is almost equal to that in pulses. We complement this green leafy veggie roti further by making it in protein-rich toor dal. Imagine deriving the benefit of both dal and green leafy veggies in a bowl of dal! Serve it hot with chapatis or fluffy cooked brown rice.
50 gm Toor Dal (cooked)
25 gm Onion
25 gm Tomato
1 tbsp Methi Leaves
1/2 tsp Cumin Seeds
1/2 tsp Ghee
1/2 tsp Turmeric Powder
1/4 tsp Chilli Powder
1/4 tsp Hing
1/2 tsp Ginger Paste
2 pc Bay Leaf
Water – as required
Salt – to taste
Method
Heat ghee in a pan and add cumin seeds to it. Mix well.

Add turmeric powder, chilli powder, hing and bay leaf and mix them.

Now add ginger paste, onion, tomato with some salt and required amount of water.

Mix them thoroughly and add methi leaves with the required amount of water.

Add cooked toor dal to it.

Cook for 10 mins and add lemon juice to it.

Your methi dal is ready to be served.