Refreshing Minty Jeera Buttermilk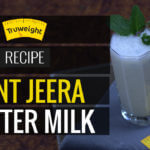 Want a refreshing drink. Move away from the regular calorie-filled colas, fruit juice or even caffeinated beverages. Try this digestive and minty buttermilk for a change. Not only refreshing, this drink is rich in good gut bacteria.
1 cup Curd
1 tsp Mint Leaves
1/2 tsp Cumin Powder
1.5 cup Water
Black Salt – as required
Method
Blend all the ingredients in the blender.

Add 1.5 cup of cold water.

Pour into a glass and garnish with mint leaves.

Serve chilled.