Nutritious Ragi Porridge with Buttermilk Recipe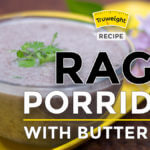 It becomes difficult when you have cravings for sweet and you want to stay healthy. But Possible comes to your rescue and brings an ultimate option! This ragi porridge recipe for weight loss can be consumed with salt and buttermilk. Buttermilk is a great substitute for milk as it packs in a lot of benefits. It contains all the essential macronutrients and is low in fat than regular milk. It is also high in potassium, vitamin B12, phosphorous, calcium, and riboflavin. Buttermilk has cooling effects which aid in digestion by reducing acidity and will cool the stomach and soothe any kind of irritation. It is also effective against dehydration and washes down the fats and oils from your stomach.
2 tbsp Ragi Flour
100 ml Butter Milk
200 ml Water
1 tsp Oil
1 tsp Cumin Seed
1 nos Green Chilli
3-4 nos Curry Leaves
Salt – to taste
Method
Take ragi flour in a bowl and add ragi flour to it.

Mix them thoroughly and break up lumps, if any.

Transfer it to a pan and heat it.

To prepare the seasoning, take oil in another pan and heat it.

Add cumin seeds, green chilli and curry leaves to prepare the seasoning.

Once this seasoning cools down, add it to buttermilk.

Now add this buttermilk to the ragi flour and water mixture.

Add salt to taste.

You are done with your nutritious ragi porridge with buttermilk. Enjoy!