Baked Sweet Potato Recipe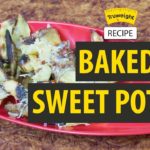 Do you love to savour sweet potatoes? Do you often add sweet potatoes to your dishes? If the answer is yes you will love to try out this baked sweet potato recipe from Possible. Well, before you start preparing it, we would like to let you know that sweet potatoes pack a powerful nutritional punch. Although they're soft and creamy enough to be put in pies and dessert, sweet potatoes are also a surprisingly nutritious vegetable. They're packed with vitamin A and are good sources of B6, C, and folate. They can be used to make baked sweet potato chips or fries. Sweet potatoes have a creamy texture and a sweet-spicy flavour that makes them ideal for tasty dishes.
200 gm Sweet potato (sliced)
1 tsp Oil
1 tsp Pepper powder
1 tsp Ajwain seeds
1 tsp Paprika
1 tbsp Grated cheese
Salt to taste
Method of preparation:
Slice the sweet potatoes, and add oil, salt, pepper, ajwain seeds, paprika and mix.

Add grated cheese and bake at 200-degree celsius.

Garnish with paprika and serve hot.