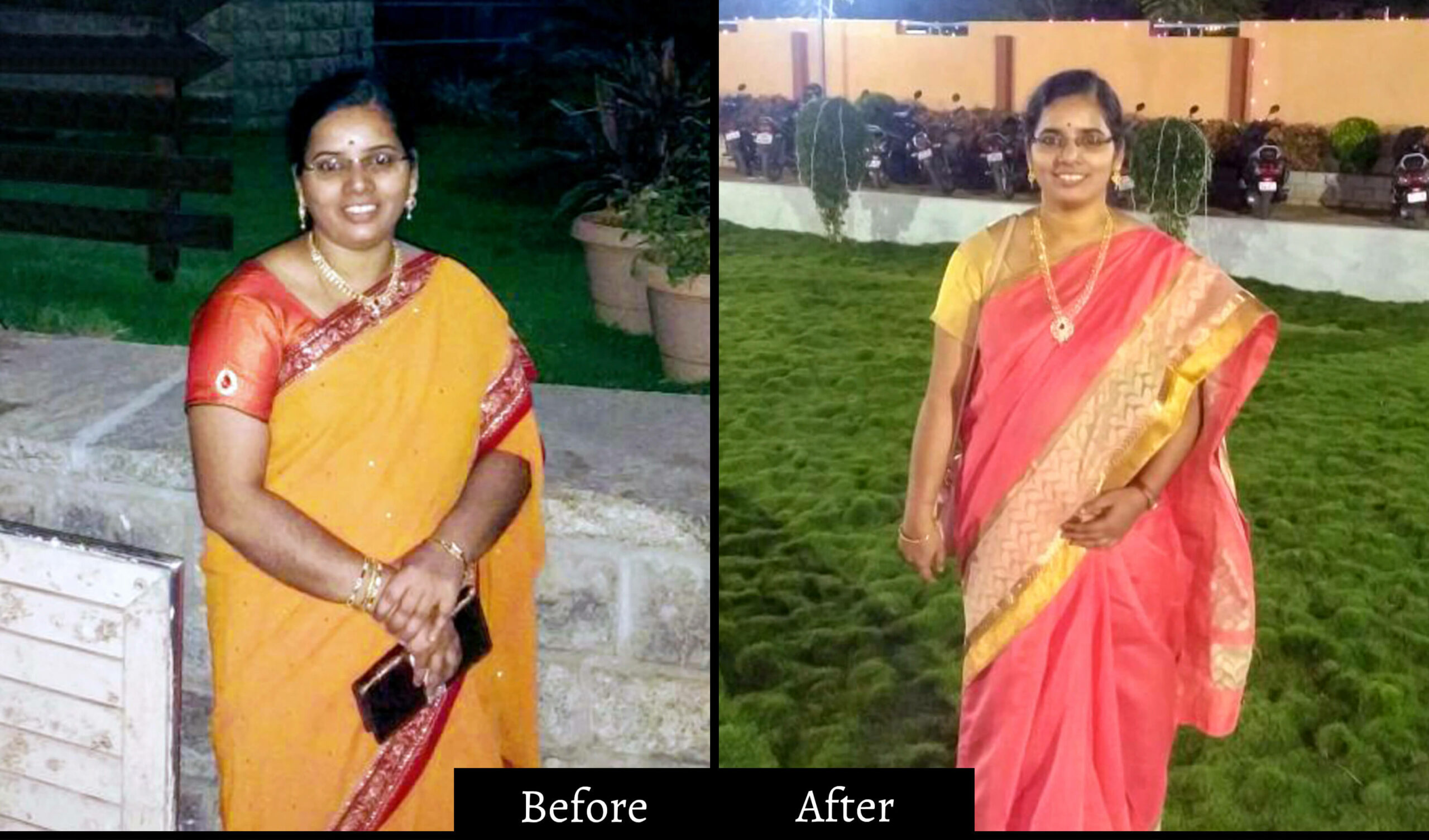 Rajyalakshmi is a 33 years old homemaker from Hyderabad. She who was facing hypothyroidism besides a constant weight gain.
The bigger problem was, Rajyalakshmi was unable to lose her weight which also made her develop ankle pains.
So even after trying when Rajyalakshmi found that losing weight was not working for her, she turned to Possible.
And at the end of her program which was just for 3 months, she lost more than 10 kgs and found a healthy living. Here's her story with Possible.
Q1) What health problems (if any) were you facing before you approached Possible ?
I have Hypothyroid. Due to this, I gained weight. Before joining Possible, I was not able to lose weight. Because of my weight, I was not able to go for long walks.
My ankles were paining when I go for walks and I was not even able to perform yoga asanas. Now TW had changed my lifestyle.
Q2) How has Possible been different from other weight loss companies you went/tried before?
Before joining Possible, I never tried any weight loss programs as such. However, I was well aware of the weight loss gimmicks all around.
There are pills, machines, massages and what not! But Possible is totally different from other weight loss programs.
Here, we can lose weight through eating superfoods and some physical Exercises which is the most natural way to lose weight that I had come across.
Q3) What was the best thing you liked about Possible ?
The best part of Possible is its Superfoods and its Dietitians. Possible provides a personal Dietitian who plays the main role in losing weight.
My Dietitian Fariya Tabbassum helped me a lot. She designed a healthy diet plan which I was able to follow very easily. She was very friendly and quite patient throughout my program.
She listened to all my problems and gave me a well-planned diet plan. I am very thankful to Possible and my coach, Fariya.
Q4) How do you feel after losing all that weight? Has your health, confidence, fitness levels improved after you lost weight?
I have lost 10 kgs in three months. I feel that this is a dream came true. After joining Possible my health issues are mostly solved and my fitness levels are improved.
Now I am able to walk for 3 to 4 km easily without any discomfort. I feel so energetic. I am able to maintain my weight in a healthy way.
Q5) What is your take on Superfoods?
Superfoods are really tasty and healthy. For every 15 days, they change diet plans. Every diet plan is comfortable to eat.
You can eat Superfoods without any discomfort. Superfoods have no side effects. They are 100% natural and safe without any harmful preservatives.
Q6) Your 3 tips for weight loss??
1: Have faith and confidence. These two plays an important role in losing weight.

2: Completely follow your diet plan. This makes you fat to fit. Definitely, you will reach your dream weight.

3: Maintain healthy habits. Do regular exercises.
"Possible has changed my lifestyle and food habits," said Rajyalakshmi.
Next Read: Sharda Lost 14 Kgs & Won Our Hearts!
**Disclaimer: The testimonials mentioned above are based on each individual's experience and results may vary for different individuals.