Red Pumpkin Soup Recipe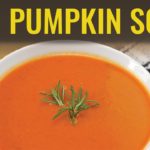 Are you bored of the usual tomato soup, vegetable soup or chicken soup? If yes, then this red pumpkin soup is surely going to impress you.
Red Pumpkin Soup is a delicious continental recipe served as a side dish. The hearty crunch of pumpkinseed adds a wonderful contrast to this rich, creamy soup. Eating pumpkin is good for the heart. The fiber, potassium, and vitamin C content in pumpkin is good for the heart.
600 gm Red pumpkin
50 gm Onion
5 gm Red chili
2 gm Black pepper
6-8 Garlic cloves
1-2 Bay leaves
Rock salt to taste
500 ml Vegetable stock
20 ml Olive oil
2-3 gm Chopped parsley
In a pan, add the pumpkin and dry roast it.

Add the garlic, onions, pepper, crushed chili, salt, bay leaf and drizzle some olive oil on it and shake.

Blend it in a blender with some vegetable stock.

Pour it into a pan and boil it with chopped parsley, olive oil, and salt.

Shake well and serve hot.