Ecstatic Rainbow Salad!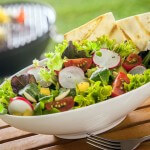 A colorful and perfect accompaniment to main dishes, the appealing rainbow salad minimizes work at the stove and maximizes the usage of fruits and vegetables. Forget the mac and Cheese and dig into a healthy bowlful of ecstasy!
1 bowl fresh green baby spinach leaves (washed and blotted)
1 sweet and tangy ripe orange (peeled, deseeded and cut into 1 inch cubes)
2 tbsp toasted chopped walnuts
1/2 red onion (thinly sliced)
Salt and pepper
1 tbsp olive oil
1 tbsp balsamic vinegar
1 tbsp orange juice or lime juice
1 tbsp feta cheese/paneer crumbled
1 tbsp raisins
PREPARATION:
For the dressing, mix together orange juice, lime juice, balsamic vinegar, olive oil and walnuts in a small bowl.

In a large bowl, add baby spinach leaves, raisins and orange pieces. Add the dressing and toss gently but thoroughly.

Then add the feta cheese/paneer crumbles.

Serve immediately.
Also read about: Italian Style Mushroom, Broccoli Hung Curd Salad!