Healthy Lunchtime with Tomato Foxtail Millet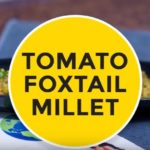 Are you looking for a healthy and easy lunch recipe? Possible brings to you this recipe of Tomato Foxtail Millet to satiate your hunger and also be a treat to your taste buds.
Possible's Foxtail Millet is rich in dietary fibre and minerals like iron and copper. It helps in reducing the bad cholesterol levels in the body and strengthens the immune system.
And with the twist of tomato, the dish becomes tastier. So what are you waiting for? Try this recipe and have a healthy lunch!
1 sachet Foxtail Millet
15 gm Onion
30 gm Tomato
1/2 tsp Oil
1/2 tsp Ginger Paste
1 tsp Green Chillies
1/2 tsp Turmeric Powder
1/2 tsp Chilli Powder
1/2 tsp Mustard Seeds
1/2 tsp Cumin Powder
1/2 tsp Coriander Powder
Salt – (To Taste)
Water – (As Required)
Method
Take oil in a pan. Add mustard seeds, curry leaves, green chilli, ginger paste and onion to it. Saute them.

Then add tomato, water, turmeric powder, chilli powder, coriander powder, required amount of water and Possible's foxtail millet to it.

Cook for 3-4 mins and you are ready to serve.
Get FREE Health Consultation Today!