Bajra With Fresh Lime Juice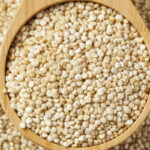 This Bajra salad combines the goodness of lignin-rich bajra and healthy vegetables. Moreover, the bajra is sprouted, a process which is known to increase the vitamin C levels and digestibility. Just dig into this salad coupled with lime juice as an ideal pre-meal salad!
1/2 cup sprouted bajra (black millet)
1 spring onion white, finely chopped
1 nos REd capsicum/green capsicum finely chopped
1 small cucumber finely chopped
2 tap fresh lemon juice
1/4 tap salt
1/2 tsp olive oil
Method
In a pressure cooker, add bajra and cook it for 10 minutes. Allow it to cool.

In a medium bowl combine chopped red bell pepper, chopped white onion, chopped cucumber, chopped orange, grated lime peel, salt, lime juice and toss to mix well. Drizzle olive oil and stir well.

Cover and leave it for at least for half hour to blend flavors.

Stir well before serving.