Bihar Style Baingan (Brinjal) Bhartha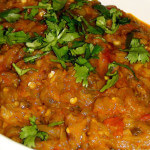 The humble eggplant or brinjal features prominently in Indian cuisine with the signature dish 'baingan ka bharta'. Little did you know that it is a low calorie, high fibre vegetable replete in essential vitamins such as Vitamin C, vitamin B6 and minerals like iron, magnesium, potassium.
Brinjal also boasts of a nutritional profile which contains anthocyanins and polyphenols which researchers have hailed as having antioxidant, anti-cancer and anti-inflammatory properties.
Dig in to this all-time classic with mustard oil.
1 Eggplant
1 onion medium
3 cloves of garlic
1 small piece of ginger
1/4th bunch coriander leaves
1 tsp mustard oil
Wash the brinjal, wipe dry it.

Apply little oil on its surface all around and roast it over the flame, turning around on the fire, till whole of its outer surface turns blackish and flaky.

Peel off the burnt skin of the roasted brinjal.

Add onion, ginger, garlic, dhania patta, salt, and uncooked mustard oil.

Mash everything well, leaving no lumps of unmashed baingan.

Serve with dal-rice, khichdi or stuffed parathas.
Note:Mango or red chilly pickle masala is also added to this bharta to enhance the taste