How To Prepare Brown Rice Egg Biriyani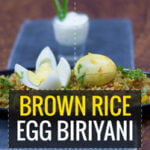 Who said Biryani can't be made healthier? Possible has brought its own version of this royal dish for you to enjoy it without any guilt of eating unhealthy.
Weight loss foods needn't be boring, a testimony being this tasty and quick to may brown rice egg biriyani.
Among the easiest, flavourful, and delicious biryani; this one gets made with limited ingredients, all available at home.
Make an onion raita with skim yogurt or a simple mint raita and you are set for a lavish lunch to befit a king and also your weight loss goals! Try it on today.
50 gm Soaked Brwn Rice
50 gm Onion
50 gm Tomato
1 no Boiled Egg
20 gm Green Bell Pepper
20 gm Yellow Bell Pepper
1/2 tsp Oil
1 tsp Ginger Garlic Paste
1 tsp Green Chillies
1/2 tsp Turmeric Powder
1/2 tsp Chilli Powder
1/2 tsp Cumin Seeds
1/2 tsp Garam Masala
2 nos Cardamom
1 no Bay leaf
1 pc Cinnamon
2 nos Cloves
1/2 tsp Coriander Powder
Salt – to taste
Water – as required
Put oil in the pressure cooker. Heat it and then add cumin seeds, bay leaf, cardamom, cinnamon to it.

Add ginger garlic paste, onions, green chillies, tomatoes to it and mix them all together while heating.

Add yellow bell pepper and green bell pepper to it and mix them further.

Add red chilli powder, coriander powder, garam masala to the mixture.

Then add salt, water and the boiled egg, to it as shown.

After heating, take out the boiled egg and then add the soaked brown rice to the mixture.

Mix them and add water as required and cook well.

You can now serve your tasty yet healthy version of biryani.