Christmas Mix Fruit Cake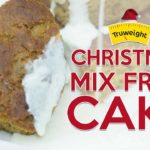 It is that time of the year when you want to indulge in good food and yummy cakes. Christmas is the time when people bake cakes at home especially the mixed fruit one. This mixed fruit cake recipe is made with Possible hi-protein atta which will help to keep your weight in check without feeling guilty.
1 cup Mixed dry fruits and nuts
200 ml Apple juice
2 nos Cloves
2 nos Cardamom
Cinnamon – A small piece
Nutmeg – A small piece
2 cups Possible slim atta
1/2 cups Powdered sugar
1 tbsp Unsalted butter
2 nos Beaten Eggs
2 tsp Vanilla essence
1 cup Apricot puree
2 tbsp Tooty fruity
1/2 tsp Baking soda
1 tsp Baking powder
Method of Preparation:
Mix the atta with baking soda, baking powder, powdered sugar, whole eggs, butter, vanilla essence, spices and apricot puree.

Mix the soaked dry fruits and tooty fruity to the cake mixture and mix it properly.

Preheat the oven at 200-degree celsius for 10 mins.

Pour the cake mixture into a tray.

Put it into the oven and bake at 200-degree celsius for 40-45 mins.