The first step towards any journey, however easy or tough it may be is the motivation to take it up; success and failure is the actually the next phase of it.
As we at Possible constantly keep reiterating the fact that weight loss is a journey, this journey also be better backed up by weight loss motivation failing which, there are actually no results to be reaped!
Losing weight ain't easy and who knows it better than real people who have been at it for days, months and even years.
Yes.. there are some who win the battle and a few who give it up somewhere along the way.
So, along with healthy weight loss friendly food and exercises, you have to have weight loss motivation to keep you going even if the journey takes a bit too long.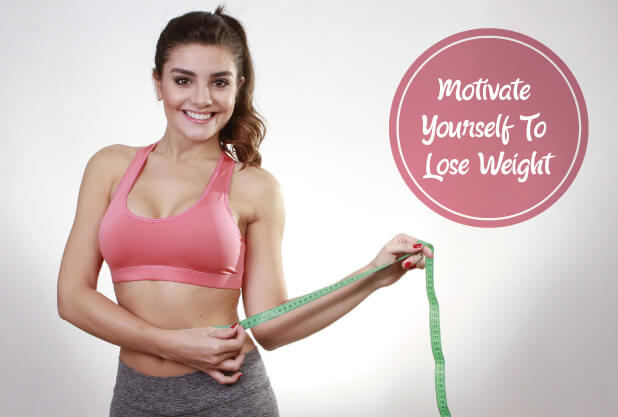 So here in this article, we bring to you a few tips on weight loss motivation and how to keep the mojo going for the fulfilling journey you are going to embark on.
1. Quantify the Result You Want to Reap
If you just say to yourself "I want to lose weight", that is pretty vague. Set a clear and achievable goal in your mind [1]. For example,
I wish to lose 10kg in 3 months. Chalk out a routine on paper as to how you aim to achieve your target. Figure it out. Spend 2-3 days visiting and revisiting your target.
Get FREE Health Consultation Today!
Try to think realistically whether the target is even achievable in the first place for setting unachievable targets to act as a major hindrance to your weight loss motivation and finally in the overall journey.
2. Set a Visual Target or Weight Loss Motivation
This means you should have it in front of your eyes the weight loss target you want to achieve.
If you desire to go back to your pre-pregnancy weight or want to fit into that little black dress, keep it in front of you always. Put up a large sized poster in your room at a point where it is visible to you.
You can also keep a jeans with waist 24 hung in front of you if that is the target you desire to achieve through your weight loss program. A visual target always helps as a weight loss motivation.  
3. Try the Dress You Desire to Fit into
Most people who embark on the journey of losing weight have that dress or outfit in mind that they would like to fit into in future.
So whenever you feel the craving of giving your body a shot of sugar or a treat of that hot crunchy bhatura, take out that dress and remind yourself of your goals.
This weight loss motivation tip really works if your weight loss journey started with your desire to don a particular dress or outfit.  
4. Start with Abandoning Habits That Hinder Your Weight Loss Goals
Going cold turkey, in the beginning, is actually a good idea. Just kick off the sugar from your diet… yes.. even from that religious morning tea or coffee.
Even gorging on sweets after your meals should go out of the window. Going cold turkey often helps you lose weight immediately, with some withdrawal symptoms, which is needless to mention; but the weight loss motivation it provides is what you need to keep it going.
5. Always Keep Your Thought Process Positive
Always keep taking your mind in a positive direction. A lot of weight loss motivation comes from the things you tell yourself [2].
If you keep reminding yourself of the long-term results you are going to reap making these small sacrifices, you will go a long way. Tell yourself that anything is achievable while you may face a few obstacles which shall be overcome with persistence and determination.
6. See Yourself in the Mirror A few Times a Day
As we earlier mentioned, visual targets help in maintaining weight loss motivation, in a similar way, visual reminders of the reality also help.
Whenever you find yourself faced with hunger pangs pulling you towards that sweet kept in the fridge or that finger licking donut available at the cafe next to your house, see yourself in the mirror and remind yourself of all the pounds you need to shed in order to comfortably fit into your targeted little black dress.
Doing this may just snap you out of the craving and get the mojo maintained. Try this… it really works!
7. Get Rid of Fat Feeding Excuses
We always tend to make excuses after loading on those extra pounds on special occasions and festivals, while the truth remains that we could have easily stayed away from it.
Leave alone festivals and occasions, we start making excuses and putting the blame on seasons, especially the winter season.
You need to understand that seasons will come, go and come again, but the weight loss motivation once is gone, is difficult to regain. So stop blaming the external factors and focus on your weight loss motivation and keep treading the difficult path until you get there.
8. Keep the Attractive Goodies out of Sight
If you have decided to take on the journey towards a fitter and healthier you, it is important that you do whatever it takes to keep the weight loss motivation intact.
One big step towards this is to keep the snacks and munchies that you think may not be resonating with your weight loss targets.
We all know that processed foods, sugary snacks, fried goods, etc come in the way of weight loss and thus we must do everything to stay away from them. Out of sight is out of mind. So the best way would be to keep these out of sight and if possible out of easy reach which can be accomplished by not buying them at all!  
9. Always Carry a Small Red Flag Placard with You
Carrying always a warning sign reminding your weight loss goals helps. The placard should be sized right to fit into your purse which you always carry.
This placard should have a warning sign written on it which reminds you of your weight loss target and provides you with the weight loss motivation even when you are travelling or out of your house.
10. Expect and Accept Setbacks as Part of the Journey
At the end of the day, we are all humans who tend to give in to our cravings once a while. So if you find yourself gorging on a delicious cake or donut or deep fried chicken someday, take it as part of the journey.
Never think that that one treat rampaged your weight loss motivation and you can't take it from there. Believe that you can always take it from there.
There will be times when you feel like giving up completely but do not. These are testing times but there is success at the end of the journey.
11. Give Yourself a Cheat Day
Giving yourself a breather in whatever you do in life is very important, whether it be work, taking care of children or going through a weight loss program.
It is a proven fact that a weight loss program many a times, make the person weak and irritable, which can be handled by treating yourself with your favorite goodies. It releases you off your stress caused by following a rigorous weight loss program [3].
Would like to end this article with Give Today Your All. Give all that you have to your goal and keep your weight loss motivation going.
If you have any more tips on how to get weight loss motivation, please leave a comment below. To know more about weight loss through real food and nutrition, please talk to our Possible Nutritionist today!  Click here to book your appointment.
Get FREE Health Consultation Today!