Who on the face of this earth does not wish to boast about that slim waist and an hourglass figure?
As they say, there are no free lunches and in much alignment with this, you cannot acquire an fit physique without putting in your sweat and blood.
People adopt all sorts of methods ranging from a workout, diet (even crash diets) and even the unhealthiest of all – weight loss supplements!
Now, in reality, weight loss is a journey which requires tremendous focus and perseverance but thanks to creative adverts, lucrative offers and good at selling sales guys, even the most intelligent lot of people are tricked into buying weight loss supplements and consuming them, which in the long run, does more harm than good to their bodies.   
5 Tall Claims Made By Promoters of Weight Loss Supplements
Today, with the Internet being the God of both small and big things, you have no dearth of information anyway. You search for one option and what you get are 100 of them.
Likewise, if you start searching for weight loss supplements, you will find yourself flooded with options and a few of them will actually manage to attract your attention to a large extent.
The firms manufacturing and marketing these products leave no stone unturned in shouting out loud the so-called "benefits" of these weight loss supplements.
They make tall claims about changing the way your metabolism works and make you lose weight.
Let us first see the kind of claims these weight loss supplements marketers have to sell to prospective clients:
They claim to curb your cravings for food through the weight loss supplements

They also claim to make you feel full before you actually consume too much

They also say that they can speed up your metabolism through caffeine, guarana, synephrine and B-complex vitamins

They also claim to slow down the fat production in your body with the help of products like green tea, hydrocitric acid and flax seed

They even claim that they can keep your body away from absorbing the fat in the foods you eat through chondritin. 
There are various forms in which weight loss supplements are available in the market – from pills to powders to capsules to liquids to shakes and teas.
Some weight loss supplements are suggested to be consumed with your meal while others are advised to be consumed instead of the meal.
These weight loss supplements work towards making you lose weight by stimulating your metabolism, or your body's system for utilizing energy.
Weight loss supplements that contain caffeine work as a stimulant of the central nervous system and burn your body fat through thermogenesis.
All this sounds very nice but the truth is that the risks involved in the consumption of these weight loss supplements far outweigh the benefits they offer the human body
Here are a Few Dangerous Side Effects of Weight Loss Supplements
Coming across success stories of weight loss with the help of weight loss supplements is as uncommon as finding a 500 rupees note just lying there waiting for you to pick it up.
But yes, incidents of negatively affected cases due to the use of weight loss supplements are quite common.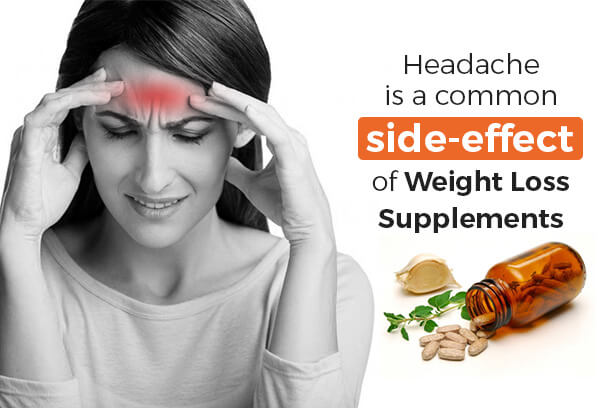 We have listed a few common side effects of weight loss supplements just for you:
Increased heart rate, high blood pressure and agitation

Diarrhea

Sleeplessness

Kidney problems, liver damage, rectal bleeding and flatulence (sometimes with discharge)

Abdominal pain, more frequent and urgent visits to the toilet, oily or soft stools, diarrhoea and pain in the rectum.

Headaches, disruption of the menstrual cycle, low blood sugar (in patients with type 2 diabetes), fatigue and disorders related to the teeth and gums

Hypertension, disturbed sleep patterns, headaches, difficulty concentrating, heart palpitations, flushing and dizzy Spells

Muscle pain, feeling sick, hyperactivity, tremors, difficulty sleeping, vomiting, diarrhoea and mood swings

A dry or unpleasant taste in the mouth
Common Side Effects of Weight Loss Supplements (Source)

Illegally Manufactured and Sold Weight Loss Supplements

This category should be included in your "things to avoid" list quite high on the priority. These supplements are either spurious or not certified by FDA (Food and Drug Administration).
And this is the reason they are sold illegally. And to say the least, these weight loss supplements have very serious side effects on your body. They are not licensed by any legal medical association because of the health threats they pose to the body.
In fact, a number of deaths have been observed due to the consumption of certain weight loss pills [1].  
Some of the dangerous side effects of these pills include heart attack, stroke, kidney failure, psychotic episodes, vomiting, fever and accelerated heartbeat.
We drafted this article to make you aware of the ill effects of weight loss supplements and to encourage you to adopt a healthy way to lose weight because we value you.
To know more about natural weight loss supplements, talk to a Possible Nutritionist today. The first consultation is on us! Click here to avail the FREE consultation. 
The Smarter Way of Losing Weight
The smarter way of shedding the unwanted pounds is definitely to do the job without compromising your health. And the way to go about it is adopting a good mix of exercise and a balanced diet in your life – every day!
You can actually try some natural home remedies for weight loss [2], consume superfoods that naturally aid weight loss [3], drink green tea as a natural weight loss supplement [4], following Possible's carefully designed weight loss program [5] and much more.