Quick and Easy Crispy Protein Fried Rice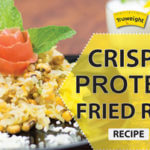 What can possibly be the next favorite food after rice for the rice lovers? Well, it is fried rice. But the whole frying and oiling of the rice can be really unhealthy. That is why Possible thought of treating your taste buds with your favorite fried rice in a much healthier way. The above recipe of protein fried rice will provide you with a good dose of protein. Protein can help you shed those unwanted pounds and keep your belly full. This recipe is packed with both carbohydrates and protein. Carbs present in brown rice and Possible's protein crispies and roasted chana is a bonus to this dish. Possible's roasted chana consists of bengal gram which is an excellent source of magnesium, manganese and phosphorous. On the other hand, Protein crispies is low in fat and high in protein and it is also loaded with vitamins and minerals, such as calcium, iron, and potassium. What can be a healthier way than this to have fried rice!
2 cup Cooked Brown Rice
1 medium Carrot
1 medium Potato
2-3 nos Green Chillies
1 nos Onion
1 tsp Ginger and Garlic paste
1 small bunch Coriander leaves
to granish Few Mint Leaves
2 tsp Olive oil
3 tsp Protein crispies
3 tsp Roasted channa
Method
In a pan, add 2 tsp of olive oil. Add onion, ginger-garlic paste, and green chillies. Saute till onion turns into golden.

Add grated /minced carrots and potatoes into the pan and add little water to cook

Once cooked, add crispy protein and roasted channa mix it well.

Add the cooked brown rice, salt, and mix it well.

Garnish it with fresh mints and coriander leaves.

Ready to Serve.