Deviled Eggs Recipe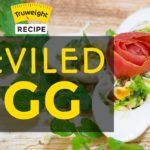 Have you ever wondered how the world will be without eggs? Well, definitely not a good one! To celebrate our undying love for eggs, Possible brings its one of the easiest recipes that will give a little twist to the eggs. This healthy twist to the deviled egg recipe incorporates the phytonutrient-rich salsa, sweet corn and grated paneer. These bite-sized delicacies are literally melt-in-the-mouth decadence that you must absolutely try. Not just the taste, the recipe provides a new way to include the protein-rich goodness contained in eggs. So there you go, yet another way to spice up the multi-faceted egg such that it is party-ready too. Try this recipe today and send us your feedback for us to improve.
2 nos Boiled eggs
1 tbsp Sweet corn (boiled)
1 tsp Grated Paneer
A few Coriander Leaves
2 tbsp Salsa
Method
Take one egg and cut it in two equal halves

With a spoon, remove the yolk part from the egg halves.

Take 2 tbsp of salsa and fill it in the place of yolk in the egg halves.

Put the grated paneer, sweet corn and coriander leaves above the salsa.

And you are ready to enjoy the deviled eggs!