Dinner Cuisine- Double Bean Gravy!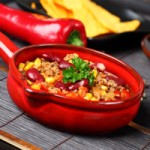 Vacations are over and you need to shed that holiday weight. But, you don't want to spend too much time in the kitchen.
The Double Bean Dinner is something that you can keep in the fridge for a week, especially if you are looking for quick lunches.
Filled with proteins, the Double Bean Dinner serves as a colourful side dish or a meatless main entrée.
1 nos green pepper/capsicum (sliced)
1 nos red onion (cut into rings)
Handful of mushrooms (quartered)
3-4 medium Handful of mushrooms (quartered)
A pinch of curry leaves powder
1/2 tsp turmeric powder
1 inch fresh ginger
1 nos garlic clove
Water
Olive oil
1 cup chickpeas (either canned or soaked and boiled)
1 cup red kidney beans (either canned or soaked and boiled)
A pinch of black pepper
Fresh coriander leaves
PREPARATION:
First grind the ginger and garlic in the mortar and pestle or in a grinder.

Then add the turmeric and a splash of olive oil and make it into a paste. Keep aside.

Heat both beans in a pan. Drain it once it's cooked and keep aside.

Fry the onions on the pan for a few minutes.

Add the chopped carrots and fry for a few more minutes. Then add the curry leaves and ginger garlic paste. Mix thoroughly and add a little water to separate it all.

Add the green peppers, mushrooms and sprinkle ground pepper and cook on medium heat.

Once it's cooked, add fresh coriander and beans. Cook for a few more minutes.

Serve hot.
Get FREE Weightloss Consultation Today!